THE D'OYLY CARTE OPERA COMPANY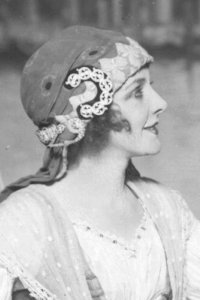 Nellie Briercliffe as Tessa in The Gondoliers
Nellie Briercliffe (1914-18, 1919-20, 1929-30)
[Born Bolton 1889; died London 12 Dec 1966]
Engaged by the D'Oyly Carte Opera Company in October 1914 to replace the departing Beatrice Boarer in the principal soubrette roles, Nellie Briercliffe quickly established herself as a favorite with London audiences. She had earlier performed extensively in the provinces, and had made her London Stage debut in December 1913 at the Haymarket in A Dear Little Wife, where she was spotted by Rupert D'Oyly Carte who was struck by her charm and vivacity.
Upon joining the D'Oyly Carte, she immediately assumed the roles of Hebe in H.M.S. Pinafore, Edith in The Pirates of Penzance, the Lady Angela in Patience, Iolanthe in Iolanthe, Melissa in Princess Ida, Pitti-Sing in The Mikado, Phoebe in The Yeomen of the Guard, and Tessa in The Gondoliers. In July 1916, The Sorcerer was added to the repertoire and Miss Briercliffe added the part of Constance Partlett.
She left the D'Oyly Carte and its arduous travel in January 1918, finding work in London more congenial, and was replaced by Catherine Ferguson. Miss Briercliffe next appeared at the Adelphi in May 1918 in a musical comedy called The Boy. It ran until August 1919.
She was persuaded to rejoin the D'Oyly Carte in September 1919 for the Company's 18-week season at the Princes Theatre, where she took all her former roles. Miss Ferguson was temporarily relegated to lesser parts. But when the London season ended on January 31, 1920, Nellie Briercliffe again left the Company.
Miss Briercliffe continued to perform in London from February 1920, when she appeared in Wild Geese at the Comedy, until 1924, at which point she took a three-year hiatus. She returned to the stage in January 1927 in Escape at the Ambassadors', and was lured back to the D'Oyly Carte one more time for a 22-week London season at the Savoy from in October 1929 to May 1930. Her roles this time included several familiar ones (Angela, Iolanthe, Melissa, Pitti-Sing, Phoebe, and Tessa) plus, for the first time, Mad Margaret in Ruddigore.
After the Savoy season ended, she continued to appear in London until November 1931.
Despite a relatively brief career with the D'Oyly Carte Opera Company, her immense popularity with Gilbert & Sullivan audiences is reflected in her two re-engagements for London seasons, as well as by her appearances on all seven full-length D'Oyly Carte recordings made for H.M.V. between 1929 and 1932 (as Phoebe, Edith, Iolanthe, Hebe, Angela, Margaret, and Melissa).
---
B Index | "Who Was Who" Homepage
---