THE D'OYLY CARTE OPERA COMPANY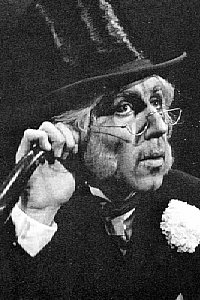 John Broad as the Notary in The Sorcerer
John Broad (1969-75, 1980)
[Born Christchurch, Dorset]
John Broad joined the D'Oyly Carte Opera Company as a bass chorister in September 1969. In September 1970 he assumed the small role of Second Yeoman in The Yeomen of the Guard, and in March 1971 moved up to the Lieutenant of the Tower in Yeomen and added the part of the Notary in the Company's new production of The Sorcerer. He would keep both roles for the balance of his D'Oyly Carte career, adding the Usher in Trial by Jury, Bob Beckett in H.M.S. Pinafore, Go-To in The Mikado, and Giorgio in The Gondoliers during the 1972-73 season. For the 1975 D'Oyly Carte Centenary productions, he also appeared as Captain Corcoran in Utopia Limited, and sang the part of the Herald in the concert performances of The Grand Duke.
Broad also understudied principal bass and baritone roles, filling in on occasion as the Usher in Trial by Jury (1971-72, before taking the role as his own), the Foreman of the Jury in Trial by Jury (1972, before assuming the Usher on a regular basis), Captain Corcoran in H.M.S. Pinafore (1970-73), Doctor Daly in The Sorcerer (1972-73), Colonel Calverley in Patience (1972-73), Private Willis in Iolanthe (1972-74), and Don Alhambra in The Gondoliers (1973-74).
He was married to fellow D'Oyly Carte artiste Rosalind Griffiths in August 1974. They left the Company the following season due in part to Mr. Broad's ill health. He took a position teaching voice and theatre in the Leicestershire education system, and directed school productions in the Midlands for several years.
He made a brief return to the D'Oyly Carte in February 1980, giving six guest appearances as the Notary in The Sorcerer.
John Broad may be heard on the D'Oyly Carte's 1973 recording of The Mikado as Go-To, and their 1975 recording of Utopia Limited as Captain Corcoran.
---
B Index | "Who Was Who" Homepage
---