THE D'OYLY CARTE OPERA COMPANY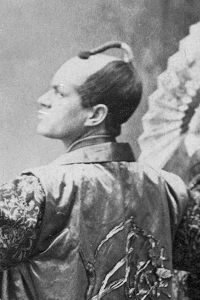 George Broderick as Pooh-Bah in The Mikado
George Broderick (1887)
[Born Philadelphia 6 May 1855, died Aurora, Illinois, 10 May 1905]
George Broderick's lone engagement with the D'Oyly Carte was on tour with Carte's Third American Ruddygore Company in New York and New England in 1887. He appeared first as Sir Roderick in April of that year, by May 4 had shifted to Sir Despard, but on May 9 resumed playing Roderick when the Company arrived in Toronto. Broderick was married to contralto Emma Baker, who appeared as Dame Hannah in the same production. Among his earlier roles on tour was Zapeter in Gilbert & Clay's Princess Toto (Chicago Museum, May 1884).
This was not, however, his first venture into Gilbert & Sullivan, nor would it be his last. He was Pish-Tush in Sydney Rosenfeld's much-maligned pirate production of The Mikado that played briefly at New York's Union Square Theatre on July 20, 1885, nearly a month before the arrival of the D'Oyly Carte. Only one performance was given in violation of a temporary injunction. The cast was brought back on August 17, just two days before the Carte Mikado opening, but lasted just two weeks at the Union Square before shifting to the Grand Opera House in Brooklyn. Mr. Broderick later played Pooh-Bah with the Templeton Opera Company in various New York area theatres between December 1885 and March 1886.
In October 1888, he appeared as the Lieutenant of the Tower in the first New York production, sanctioned by D'Oyly Carte, of The Yeomen of the Guard at the Casino Theatre with Rudolph Aronson's Company, and later played the role in other American cities when Aronson took the production on tour in 1889.
In January 1893, George Broderick appeared again in New York as Elvino in Gilbert and Cellier's The Mountebanks, in a cast that included Lillian Russell.
In 1900 Broderick made numerous recordings, both musical and recitation, for the leading recording companies in New York. While they included many songs from opera, his only Sullivan recording appears to have been "The Absent Minded Beggar." His recording career ended abruptly at the end of the year when he and his wife moved to Illinois. Broderick continued to appear on stage, however, and also sang as a soloist at Christ Episcopal Church in Chicago. He was the uncle of Helen Broderick, a well-known film actress. Helen Broderick's son was Broderick Crawford, himself a popular television and film actor, perhaps best remembered for the TV series "Highway Patrol."
---
B Index | "Who Was Who" Homepage
---