THE D'OYLY CARTE OPERA COMPANY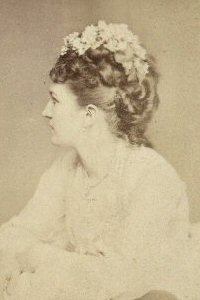 Nelly Bromley as the Plaintiff in Trial by Jury
Nelly Bromley (1875)
[Born 1850, died Beaulieu, Hants. 27 Oct 1939]
Nelly Bromley first attracted notice on the London Stage in 1868 in burlesque at the Royalty. She later appeared at the Globe (1871), the Olympic (1872), the Gaiety (1873), and the Strand (1874) before returning to the Royalty to create the role of the Plaintiff in the original production of Trial by Jury on March 25, 1875.
Although a critical success, Miss Bromley was replaced as Plaintiff in July 1875 by Linda Verner, a friend of the Company's director, Selina Dolaro, who, it was hinted, objected to her winsome rival. (Richard D'Oyly Carte was at that time simply the stage manager at the Royalty, although it was he who suggested that Gilbert and Sullivan collaborate on Trial by Jury as an after-piece.) Charles d'Albert's dance arrangement, "Trial by Jury Lancers," was dedicated to Nelly Bromley.
She returned to the Globe in September 1875 in Leigh's translation of Offenbach's The Brigands, and continued to appear frequently on the London Stage at the Criterion, the Royalty, and Drury Lane Theatres until her retirement in 1883.
Miss Bromley was in later life known by her married name, Mrs. Archibald Stuart Wortley. She died in 1939 at the age of 89.
---
B Index | "Who Was Who" Homepage
---