THE D'OYLY CARTE OPERA COMPANY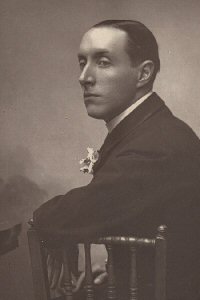 Charles H. Brookfield
Charles H. Brookfield (1897-98)
[Born London 19 May 1857, died London 20 Oct 1913]
Charles Hallam Elton Brookfield was well known as an actor, dramatic author, journalist, and Britain's joint examiner of plays, a position he held during the latter part of his life.
He attended Cambridge University, where he earned the Winchester Reading Prize in 1878. The following year he made his initial professional stage appearance at the Alexandra Palace Theatre in Still Waters Run Deep. Over the next twenty years he appeared with Ellen Terry, the Kendalls, and Herbert Beerbohm Tree, among others, in works ranging from pantomime and farce to Shakespeare.
His one appearance with the D'Oyly Carte organization was as Baron Grog in the December 1897 to March 1898 revival of The Grand Duchess of Gerolstein. He soon thereafter left the stage due to illness, concentrating instead on journalism and writing for the theatre. He was the joint-librettist (with Adrian Ross and Aubrey Hopwood) of The Lucky Star, an ill-fated comic opera that premiered at the Savoy in January 1899, and served for some years on the staff of The Saturday Review. He wrote a volume of "Random Reminiscences," published in London by Edward Arnold in 1902.
His works for the stage included Dear Old Charlie (like The Lucky Star, an adaptation from the French), which was subject to a good deal of criticism in some quarters as unsuitable for the stage. It was therefore a surprise, and a source of controversy, when he was named as examiner of plays in late 1911. Sadly, his health grew worse and he was unable to cope with his examiner duties by himself. A joint examiner was named in February 1912. Charles Brookfield died at his home in October 1913.
---
B Index | "Who Was Who" Homepage
---