THE D'OYLY CARTE OPERA COMPANY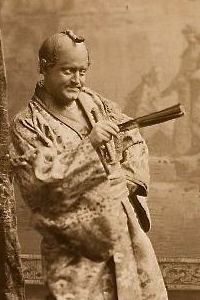 G. Byron Browne as Pish-Tush in The Mikado
G. Byron Browne (1880-86)
[Born America c.1853]
George Byron Browne appeared with a number D'Oyly Carte's touring companies in the 1880s. His first named part was the Pirate King in The Pirates of Penzance, from December 27, 1880, to July 30, 1881, with Carte's "D," later "E," Company. When a new "D" Company was formed August 1, 1881, for the first Provincial production of Patience, Browne was given the role of Colonel Calverley, which he played until the run ended December 17. From January to March 1882, he toured with yet another Carte Company in the title role in Stephens and Solomon's Cluade Duval, before resuming the part of the Colonel from March to December with Mr. D'Oyly Carte's No. 1 Patience Company.
Browne began 1883 with Mr. D'Oyly Carte's Pinafore and Pirates Company, playing Captain Corcoran and the Pirate King, but when the No. 1 Patience Company resumed operations in March he took up the Colonel again. December 8, 1883, marked the end for No. 1 Patience, and Browne was assigned to a new Pinafore and Pirates Company on Boxing Day, where he once more took up Captain Corcoran and the Pirate King until February 2, 1884, when that Company was disbanded.
He appeared next as the Colonel from March 24 to July 5, 1884, with Mr. D'Oyly Carte's "C" (Patience No. 1) Company. The "C" Company toured as a Repertory Company from July 28 to December 6, 1884, with Browne in the familiar roles to Captain, Pirate King, and Colonel. After a break of several months, the "C" (Repertory) Company was reconstituted in April 1885 with Browne adding Private Willis in Iolanthe to his three parts from the earlier tour. The tour ended in July, and Browne was sent to New York to play Pish-Tush in the first American production of The Mikado. He was replaced by Sebastian King in January 1886, and never again appeared with the D'Oyly Carte organization.
---
B Index | "Who Was Who" Homepage
---