THE D'OYLY CARTE OPERA COMPANY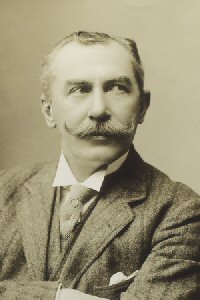 Walter Browne
Walter Browne (1881-82)
[Born Hull, Yorkshire 7 May 1856, died Hartford, Connecticut 5 Feb 1911]
George Walter Browne was raised in Yorkshire, where he attended St. Peter's College and founded the York Garrick Club. He studied music in London and in Italy, and for a time toured England giving piano and vocal recitals.
He made his first professional appearance on stage with the D'Oyly Carte at the Opera Comique in early 1881, in the chorus of Patience and as understudy to Richard Temple as Colonel Calverley. When Temple left the Company in September, Browne took over the role and played it there and at the Savoy through the end of the run on November 22, 1882. Temple returned to the D'Oyly Carte at the Savoy later that month to create the role of Strephon in Iolanthe. It appears that Browne remained with the Company for at least a portion of that run, again as Temple's understudy, as he claims to have played Strephon at the Savoy in his book, "Who's Who on the Stage" (co-edited with E. de Roy Koch, B. W. Dodge, New York, 1908).
Walter Browne went on to sing baritone parts in grand opera at Covent Garden and the Crystal Palace. He was one of the founders of a satirical weekly paper, The Yorkshireman, and for three years was dramatic critic for the London Evening Echo. In 1890 he toured South America with Edwin Cleary's English Comic Opera Company, appearing in Buenas Aires in many roles including Dick Deadeye in H.M.S. Pinafore, the Sergeant of Police in The Pirates of Penzance, Pooh-Bah in The Mikado, and, on at least one occasion, the Counsel in Trial by Jury and Harry Spreadbrow in in Gilbert's Sweethearts. Browne's own sketch Photographic Fun was also performed on the tour as a curtain raiser. The Company also appeared briefly in Montevideo.
Returning to London, he performed for a time in music halls in a vaudeville sketch of his own composition. He then went to South Africa where he was a member of the Johannesburg Stock Exchange and organized a touring opera company in which he performed. He next went to New York, appearing with Henry E. Dixey's Company as Archibald Grosvenor in Patience and Strephon in Iolanthe at Palmer's Theatre in September 1892. Browne later appeared in other operas at Daly's and on tour. In 1894, he joined the editorial staff of the New York World.
Browne wrote extensively for the stage over the years, with over twenty of his works produced in London and elsewhere. His most successful plays included A Wet Day, produced at the Vaudeville Theatre in London in 1884-85, and Everywoman, which ran for over 100 performances at the Herald Square Theatre in New York in 1911. We also wrote two novels, a number of short stories, and columns on dramatic subjects.
Sadly, Browne never lived to see Everywoman performed. He died of pneumonia just a few hours before it was produced in Hartford, Connecticut. His death was believed a result of his arduous work in preparing the modern morality play for the stage.
---
B Index | "Who Was Who" Homepage
---