THE D'OYLY CARTE OPERA COMPANY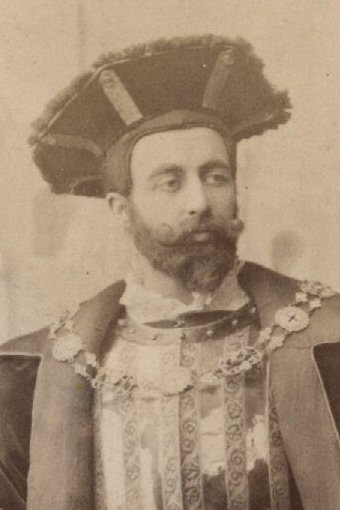 Wallace Brownlow as the Lieutenant of the Tower in The Yeomen of the Guard
Wallace Brownlow (1884-91)
[Died Melbourne, Australia Sep 1919]
Wallace Brownlow, who created the roles of the Lieutenant of the Tower and Luiz at the Savoy, began his D'Oyly Carte career in the chorus of Carte's touring "D" Company in 1884. Still a chorister in 1885, he traveled to America where he was with D'Oyly Carte's First American Mikado Company in New York and Boston. In 1886, he toured Germany and Austria with Carte's Continental Company ("G" Company). It was there he appeared in his first named role, as Foreman of the Jury in Trial by Jury, which played with H.M.S. Pinafore on the tour. The Continental tour was followed in 1887 by his first Savoy engagement, as a member of the chorus in the first production of Ruddygore. As Richard Temple's understudy, he had the opportunity to fill in as Sir Roderick Murgatroyd for a spell in August 1887.
Brownlow remained in the Savoy chorus through the first London revivals of H.M.S. Pinafore, The Pirates of Penzance, and The Mikado. These works were accompanied on the Savoy bill by a one-act piece, Mrs. Jarramie's Genie, written by Frank Desprez and composed by Alfred and François Cellier, with Brownlow appearing as Mr. Harrington Jarramie, a retired upholsterer.
In October 1888 at the Savoy, he created his first Gilbert & Sullivan role:that of Sir Richard Cholmondelay, the Lieutenant of the Tower in The Yeomen of the Guard. This was followed by Luiz in The Gondoliers, which he played from the opera's premiere in December 1889 until April 1891 when he yielded the part to Helier Lemaistre. Brownlow left the Savoy and the D'Oyly Carte Opera Company to devote his efforts to Richard D'Oyly Carte's other venture:the Royal English Opera House:where he appeared as Prince John in Ivanhoe and the Duc de Longueville in La Basoche.
When La Basoche closed in January 1892, Brownlow found work as a principal in a series of comic operas at London Theatres from February 1892 until December 1893. He subsequently traveled to Australia where he once again worked in Gilbert & Sullivan, among other stage appearances. In 1895, he was in H.M.S. Pinafore in Sydney, and in 1900 appeared in both Sydney and Melbourne in H.M.S. Pinafore, The Pirates of Penzance, Iolanthe, and The Gondoliers:in the latter opera as Giuseppe.
Nellie Stewart, the Australian prima donna, writes in her memoirs ("My Life's Story," John Sands, Sydney, 1923) of Brownlow's great success with Australian audiences, the "ease and grace and dash" that he brought to his roles, his huge popularity with the women who pursued him, and, sadly, his weakness for drink that led to his unhappy demise. After a failed attempt at managing a hotel in Western Australia, he migrated to America. There he appeared at New York's Broadway Theatre in the comic operas Love's Lottery (October-November 1904), Girofle-Girsofla (January-February 1905), and Boccaccio (March 1905).
Later, theatrical manager Hugh McIntosh found Brownlow in California, living in dereliction, and brought him back to Australia under contract. He soon "lapsed into his old habit, and some time later [September 1919] died very miserably in Melbourne."
---
B Index | "Who Was Who" Homepage
---