THE D'OYLY CARTE OPERA COMPANY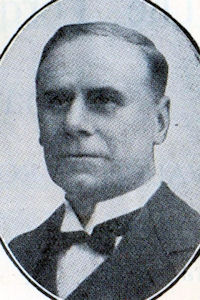 Edwin Bryan
Edwin Bryan (1893-1903, 1917-19)
[Born c.1864, died Oct 1949]
Edwin Bryan joined the D'Oyly Carte organization as a touring chorister in 1893. He was with Carte's "E" Company in 1894, where he may have had a role in one of the companion pieces playing with H.M.S. Pinafore. At some point between 1894 and 1897, he joined Carte's London Company at the Savoy, and in February 1897, created the small part of Herr Schnippenhammer in His Majesty. Bryan remained at the Savoy until 1903 appearing in the chorus and several smaller parts. These includes the Second Citizen in the 1897 revival of The Yeomen of the Guard (he also filled in briefly as Wilfred Shadbolt in May of that year), Simon the Smuggler in Old Sarah (companion piece to The Grand Duchess of Gerolstein in 1898), the Foreman of the Jury in the 1899 revival of Trial by Jury, the Colonel in The Outpost (companion piece to Patience in 1900), and James Doubleday in A Princess of Kensington in 1903. When William Greet took A Princess of Kensington on tour in May 1903, Bryan continued as Doubleday until the Company was disbanded later that year.
Edwin Bryan rejoined the D'Oyly Carte (Repertory) Opera Company as assistant stage manager and chorister in July 1917, serving in this dual capacity until leaving the Company for the last time in January 1919.
Between 1923 and 1937 Bryan directed Gilbert & Sullivan and other comic operas for seven seasons of the Torquay Amateur Operatic Society.
---
B Index | "Who Was Who" Homepage
---