THE D'OYLY CARTE OPERA COMPANY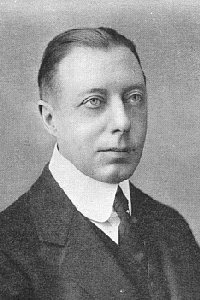 W. Simms Bull
W. Simms Bull (1892-1900)
[Born Cheltenham]
W. Simms Bull appeared on tour with at least three D'Oyly Carte touring companies between 1892 and 1900. His only extended periods in named parts were from December 1892 to December 1893, as Kill-Joy Candlemas in Haddon Hall with D'Oyly Carte Opera Company "D," and from December 1897 to December 1900 as Phantis in Utopia Limited with D'Oyly Carte Opera Company "C." From 1894 to 1897 he served primarily in the chorus but did appear briefly as Scaphio in Utopia Limited with Company "B" (November 1894) and Sergeant Bouncer in Cox and Box with Carte's Company "B" (March 1896). He also filled in on occasion in 1899 for C. Herbert Workman as the Lord Chancellor in Iolanthe.
Bull served as stage manager for the touring D'Oyly Carte Principal Repertory Opera Company from October 1908 until March 1909 (while Albert James was engaged at the Savoy for the Second London Repertory Season). When James returned to the Repertory Company, Bull came to the Savoy (now under the management of Workman), and stage managed productions of The Mountaineers (September-November 1909), Gilbert & German's Fallen Fairies (December 1909-January 1910), and Two Merry Monarchs (March-April 1910).
When the D'Oyly Carte "New" Opera Company was launched in September 1919, Simms Bull was brought back to be its business manager. He served in that capacity until the "New" Company was disbanded in June 1927.
---
B Index | "Who Was Who" Homepage
---