THE D'OYLY CARTE OPERA COMPANY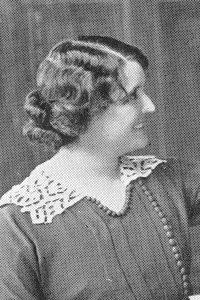 Mabel Burnege as Sarah in Within the Law
Mabel Burnege (1903-07)
[Died 2 Jul 1972]
Mabel Burnege toured with D'Oyly Carte Opera Company "E" from March until December 1903, initially as a chorister and understudy while appearing as Minnie Hill in Bridgeman & Cellier's curtain raiser Bob, which played with H.M.S. Pinafore. In May she filled in briefly as Yum-Yum in The Mikado for Nancy Freyne, and in July she took over the additional roles of Peep-Bo in The Mikado and Fiametta in The Gondoliers following the departure of Bertha Seaton.
Company "E" disbanded in December 1903, but in 1904 she was with the D'Oyly Carte Principal Repertory Opera Company again in the chorus and again playing Minnie Hill in Bob, as well as Ada in Princess Ida. Once again she added additional roles in July, replacing the departing Jessie Vince as Saphir in Patience, Nancy Freyne as Leila in Iolanthe and Peep-Bo in The Mikado, and Ruby Lingard as Vittoria in The Gondoliers. In November, when Trial by Jury was added to the repertoire, she played First Bridesmaid.
Miss Burnege remained with the D'Oyly Carte Principal Repertory Opera Company through June 1907. She held down the small roles of First Bridesmaid, Kate in The Pirates of Penzance, Saphir, Leila, Peep-Bo, and Vittoria throughout her tenure, except for 1905 when for some reason she played Fleta and then Celia in Iolanthe. She also substituted on occasion in the principal soubrette roles of Hebe in H.M.S. Pinafore, Edith in The Pirates of Penzance, the Lady Angela in Patience, Iolanthe in Iolanthe, Melissa in Princess Ida, Pitti-Sing in The Mikado, Phoebe in The Yeomen of the Guard, and Tessa in The Gondoliers. Her longest stretch in these roles was the two months of August and September 1906, between the departure of Jessie Rose and the engagement of Lulu Evans. Miss Burnege also appeared on occasion as Sacharissa in Princess Ida in 1906, and Isabel, rather than her regular Kate, in The Pirates of Penzance in 1907.
After leaving the D'Oyly Carte organization in June 1907, she continued her stage career, appearing frequently in London until 1918. Her roles included Armandine in Eden & Somerville's The Mountaineers at the Savoy in 1909, Zara in Gilbert & German's Fallen Fairies at the Savoy in 1909-10, and several parts in The Chocolate Soldier at the Lyric in 1910 and again in 1914.
---
B Index | "Who Was Who" Homepage
---