THE D'OYLY CARTE OPERA COMPANY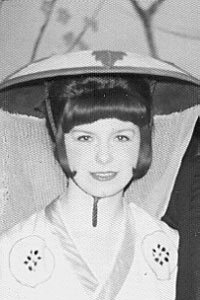 Gillian Burrows in The Mikado
Gillian Burrows (1974-76)
[Born London 1949]
Gillian Burrows received her musical training at the Royal College of Music, London, where she taught briefly in 1968 in the Junior Department. After teaching music in Brighton for a few years, she sang in the Wexford Opera Festival in 1973, then joined the D'Oyly Carte Opera chorus in March 1974.
Miss Burrows served in the D'Oyly Carte until July 1976. She took her first named part during the December 1974-March 1975 season at Sadler's Wells Theatre, London, when she filled in for Judi Merri as Constance Partlett in The Sorcerer. During the 1975-76 season she took the small part of Ruth in Ruddigore and substituted on occasion as Peep-Bo in The Mikado.
While with the Company, she married D'Oyly Carte Assistant Musical Director Glyn Hale. After leaving the D'Oyly Carte, Mrs. Hale returned to teaching and freelance concert and cabaret work.
Further details on her performing and teaching career may be found on her website, halefamily.net/Gill.
---
B Index | "Who Was Who" Homepage
---