THE D'OYLY CARTE OPERA COMPANY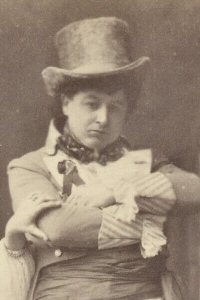 Cecil Burt as Risotto in The Mountebanks
Cecil Burt (1884)
[Born c.1852, died 26 Jun 1916]
Tenor Cecil Burt, whose real name was Charles Robert Butterfield, toured with D'Oyly Carte's "A" Company as Prince Hilarion in Princess Ida from February 11 to December 20, 1884. It was his only engagement with the D'Oyly Carte organization.
From 1886 to 1888, he appeared as Geoffrey Wilder in a touring production of Stephenson & Cellier's Dorothy. About this time, he married the Lucy Carr Shaw, sister of George Bernard Shaw and herself a former D'Oyly Carte artist. She toured with him in Dorothy as the title character. Their unhappy marriage ended in divorce in 1909.
Burt's performing career included occasional appearances on the London Stage between 1892 and 1912. He created the part of Risotto in the original production of Gilbert & Cellier's The Mountebanks, from January to August 1892.
---
B Index | "Who Was Who" Homepage
---