THE D'OYLY CARTE OPERA COMPANY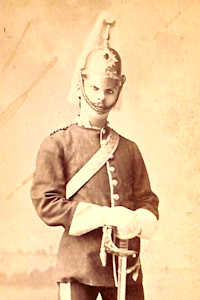 Lyn Cadwaladr as the Duke of Dunstable in Patience
Lyn Cadwaladr (1879-83, 1885-89, 1893-95)
[Born Gardden Hall, Ruabon 1860, died 7 Feb 1909]
After training at the Royal Irish Academy of Music, Welsh tenor Llewellyn Cadwaladr made his operatic debut at the age of 19 with the Carl Rosa Opera Company in Wagner's Rienzi in 1879.
In June of that year he joined Mr. D'Oyly Carte's newly formed "B" Company on tour to sing Ralph Rackstraw in H.M.S. Pinafore. The Company was redesignated Mr. D'Oyly Carte's "Second Pinafore Company" in August 1879, and Mr. D'Oyly Carte's "A" Company in August of 1880. Cadwaladr continued to appear as Ralph throughout his stay with that Company, giving the single copyright performance of Frederic in The Pirates of Penzance in Paignton on December 30, 1879, and adding Alexis to his duties when The Sorcerer joined the tour in March 1881.
He left England in August 1881 to played the Duke of Dunstable in Carte's New York production of Patience, Standard Theatre, September 1881-March 1882, and remained in New York for a second Carte production, as Charles Lorrimer in Stephens and Solomon's Claude Duval, Standard Theatre, March-April 1882. Cadwaladr was back in England briefly during July and August 1882 as the Duke in Patience with Mr. D'Oyly Carte's No. 2 "Patience" Company, but returned to New York in the fall where he appeared in Carte's productions of Rip Van Winkle (as Hans Van Slous and the First Lieutenant), October-November 1882, and later in the first New York presentation of Iolanthe (as Earl Tolloller), November 1882-February 1883. After Iolanthe ran its course in New York, Cadwaladr was once more back in Great Britain:as Tolloller with Mr. D'Oyly Carte's No. 1 "Iolanthe" Company during most of 1883.
He then left the D'Oyly Carte for a spell, appearing in London as Rochester in Nell Gwynne at the Avenue and Comedy Theatres in 1884.
Cadwaladr returned to the D'Oyly Carte fold in 1885, first as Alexis at the Savoy in March, then with Mr. D'Oyly Carte's "C" (Repertory) Company as Ralph Rackstraw, Frederic, the Duke of Dunstable, and Tolloller (from April to July), and later (from September to October) as Alexis, Frederic, and the Duke. He then headed to America as Nanki-Poo with Carte's Second American Mikado Company (November 1885 to March 1886), later appearing in that role with Carte's "Continental Company" ("G" Company) in Germany (October 1886 to January 1887).
Returning to Britain, he played Nanki-Poo from January 17 to February 26 with Carte's newly formed "A" Company in Scotland, before appearing with Mr. D'Oyly Carte's "C" Company as Richard Dauntless in the first provincial production of Ruddigore, March to December 1887.
In February 1888, still with Mr. D'Oyly Carte's "C" Company:now a repertory company:Cadwaladr played Ralph, Frederic, the Duke of Dunstable, and Nanki-Poo. On November 1, 1888, "C" Company gave the first provincial production of The Yeomen of the Guard with Cadwaladr as Colonel Fairfax. In December 1888, he shifted to Carte's "E" Company, and in January 1889 to "B" Company, in each instance as Fairfax.
He left the Carte organization in July 1889, appearing at the Opera Comique in Castle of Como, Gretna Green, and Les Cloches de Corneville. He then toured South America as leading tenor with Edwin Cleary's English Comic Opera Company, appearing in Buenas Aires in many roles including Ralph, Frederic, Nanki-Poo, and, on at least one occasion, the Defendant in Trial by Jury in 1890. The Company also appeared briefly in Montevideo.
In January 1893, he rejoined the D'Oyly Carte, as principal tenor for Carte's touring Company "B." He toured with them until December 1895, appearing in such roles as John Manners in Haddon Hall, the Duke of Dunstable, Captain Fitzbattleaxe in Utopia Limited, Ralph Rackstraw, Nanki-Poo, Marco in The Gondoliers, and Vasquez in The Chieftain.
December 1895 marked the end of his association with D'Oyly Carte. He later appeared in London in The Greek Slave at Daly's in 1898-99, after which we performed musical and operatic sketches in variety halls. He traveled to Australia briefly in 1904. His favorite roles were Richard Dauntless in Ruddigore and Claude Melnotte in Castle of Como.
---
C Index | "Who Was Who" Homepage
---