THE D'OYLY CARTE OPERA COMPANY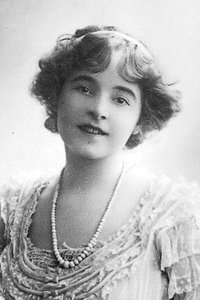 Lucie Caine
Lucie Caine (1897-1901)
[Born Bristol 1879]
Soprano Lucie Caine appeared with D'Oyly Carte touring companies from July 1897 to July 1901.She began with D'Oyly Carte Opera Company "B" as Kate in The Pirates of Penzance and Princess Lucilla Chloris in His Majesty, but two months later (September 1897) transferred to Carte's Company "C" taking Fiametta in The Gondoliers, then adding the Lady Ella in Patience and Phylla in Utopia Limited when those operas joined the repertoire in October and November respectively.
Company "C" began a new repertory tour in late December 1897, with Miss Caine playing the small roles of Leila in Iolanthe, Sacharissa in Princess Ida, Fiametta in Gondoliers, and Phylla in Utopia.In June 1898, upon Flora Macdonald's shift from soprano to soubrette, Lucie Caine moved up the ladder, swapping Sacharissa for Lady Psyche in Ida, Fiametta for Casilda in Gondoliers, and Phylla for Princess Nekaya in Utopia.She also added Kate in both Pirates and The Yeomen of the Guard, Ella in Patience, and Peep-Bo in The Mikado to her duties.
In January 1899 she exchanged Kate in Pirates for Isabel, briefly appeared as Phylla again, and added the Plaintiff in Trial by Jury to her repertoire.In September and October 1900 she filled in on occasion for principal soprano Lina Carr as Yum-Yum in The Mikado and Gianetta in The Gondoliers, and in January 1901 Miss Caine added "Scent-of-Lilies" in The Rose of Persia when that opera joined the Company "C" tour.
Lucie Caine left the D'Oyly Carte organization in July 1901.In 1903 she toured as Daisy in An English Daisy, a musical comedy that never made it to the West End.Her only appearance on the London Stage in a named part came as Lalage in the musical play Butterflies (Apollo, May-November 1908).
---
C Index | "Who Was Who" Homepage
---