THE D'OYLY CARTE OPERA COMPANY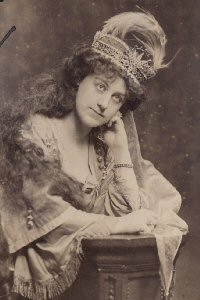 Lina Carr as Sultana Zubedyah in The Rose of Persia
Lina Carr (1895-1902)
[Born Southsea 15 Jul 1872, died 1931]
Michaelangela Kattrine Carr was a principal soprano on tour with various D'Oyly Carte companies from September 1895 to March 1902. She began with D'Oyly Carte Opera Company "E" as Patience in Patience and Gianetta in The Gondoliers, then added Lisa when The Grand Duke joined the repertoire in March 1896.
From July-November 1896 she was with D'Oyly Carte Opera Company "C" as the second leading soprano, appearing as the Plaintiff in Trial by Jury, Kate in The Pirates of Penzance, the Lady Ella in Patience, Celia in Iolanthe, Lady Psyche in Princess Ida, Peep-Bo in The Mikado, Kate in The Yeomen of the Guard, and Casilda in The Gondoliers.
In December 1896 Miss Carr left "C" Company for a D'Oyly Carte tour of South Africa (December 1896-June 1897). She would appear there as the Plaintiff in Trial, Josephine in Pinafore, Mabel in Pirates, Lady Angela in Patience, Casilda in The Gondoliers, Princess Zara in Utopia Limited, and Lisa in The Grand Duke. She may also have appeared as Aline in The Sorcerer and Celia in Iolanthe, but the record of the tour in incomplete.
The South Africa Company returned to England as D'Oyly Carte Opera Company "B," commencing to tour Sorcerer, Pirates, Iolanthe, Mikado, Yeomen, and Gondoliers in July 1897, Lina Carr as Aline, Mabel, Phyllis, Yum-Yum, Elsie Maynard, and Gianetta respectively. By August 1897, however, she was back with Carte's Company "C."
She remained with Company "C" until April 1902, appearing as Aline, Josephine, Mabel, Patience, Phyllis, Princess Ida, Yum-Yum, Elsie, Gianetta, and Zara whenever their operas were in the repertoire. She also appeared as the Sultana Zubedyah when The Rose of Persia was added from January to September 1900.
---
C Index | "Who Was Who" Homepage
---