THE D'OYLY CARTE OPERA COMPANY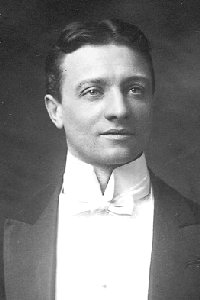 Percy Carr
Percy Carr (1898-1902)
Percy Carr toured with D'Oyly Carte Opera Company "E," later known as the "Savoy Touring Company" from 1898 until May 1902.He appeared as Private Perry in The Emerald Isle from July 1901 to February 1902, then assumed the part of Pat Murphy for the remainder of the tour.
It was not until 1916 that he made his debut in a London program as Etienne de Roseney in The Model and the Man at the Princes Theatre.He later appeared in See-Saw (Comedy, 1916-17) and Monsieur Beaucaire (Princes, 1919).
Carr went on to appear in Monsieur Beaucaire in New York (New Amsterdam Theatre, 1919-20).He also saw action there as Athos in the short-lived operetta The Three Musketeers (Manhattan Opera House, 1921).It closed after five performances.
---
C Index | "Who Was Who" Homepage
---