THE D'OYLY CARTE OPERA COMPANY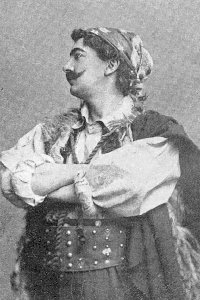 Percy Carrington
Percy Carrington (1892-99)
[Born Edinburgh, Scotland 1863]
After a tour of comic opera in South America, Percy Carrington appeared as a page in La Basoche at the Royal English Opera House (November 1891-January 1892), before joining D'Oyly Carte Opera Company "B" on tour as John Manners in Haddon Hall (November 1892-January 1893).In August 1893 he joined Carte's Company "E," replacing John McCauley as John Manners, and then in December 1893 appearing as Lord Dramaleigh, the Lord High Chamberlain, in the First Provincial production of Utopia Limited.
When Company "E" added Mirette to its repertoire in January 1895, Carrington took the role of Bertuccio. Mirette was replaced by The Chieftain in February, with Carrington as Pedro Gomez (his favorite role), but when The Chieftain gave way to The Gondoliers in August 1895, Carrington had to settle with Francesco. Carrington also had a part, undetermined, in the curtain raiser Captain Billy that played with the shorter operas (H.M.S. Pinafore and Patience) in the repertoire that season.
In March 1896, Company "E" gave the Carte's First Provincial production of The Grand Duke, touring the new opera, with Carrington as Dr. Tannhauser, exclusively until July when it was joined in repertoire by The Mikado and The Gondoliers.This time Carrington had the more satisfying role of Luiz in The Gondoliers.His named parts disappeared, however, when Grand Duke was dropped in April 1897 and Gondoliers was discontinued in July.Carrington remained in the Company "E" chorus, however, and was rewarded in January 1898 with Leonard Meryll when The Yeomen of the Guard was revived, and in June 1898 with Lt. Niersteiner in The Grand Duchess of Gerolstein.He also had a part, again undetermined, in After All, the companion piece that ran with H.M.S. Pinafore.In December 1898 he filled in briefly for principal tenor H. Manfred Russell as Nanki-Poo in The Mikado.
Carrington continued to tour with Niersteiner and Leonard in 1899, but The Grand Duchess was dropped in April, and Strafford Moss took over as Leonard in October.Percy Carrington appears to have left the Company by the end of the year.
---
C Index | "Who Was Who" Homepage
---