THE D'OYLY CARTE OPERA COMPANY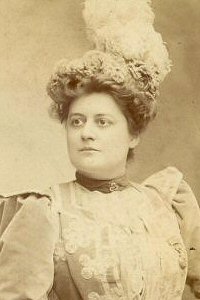 Nita Carritte
Nita Carritte (1891)
[Born Halifax, Nova Scotia]
Nita Carritte first appeared publicly in a concert at the age of 5 in St. John, New Brunswick, Canada.At the age of 14 in the same city she gave her first operatic performance in the title role of Patience. She next went to Paris where she completed her education, studied voice, and sang on the concert stage. There she attracted the attention of Augustus Harris who engaged her to perform in England, initially as Michaela in Carmen at Covent Garden in 1890. This was followed by a brief engagement with the Carl Rosa Opera Company.
She was next hired by Richard D'Oyly Carte to replace Esther Palliser as Gianetta in The Gondoliers at the Savoy in January 1891. However, two months into her engagement her voice failed and she was obliged to break the engagement and return to Paris to recover.
When her voice returned she resumed her vocal studies, this time with Madame Marchesi, and studied acting at the Grand Opera, Paris, as well. In 1893-94 she toured America with Duff's English Opera Company; in 1895 she rejoined the Carl Rosa Company, and appeared in England and Scotland, most notably as Carmen.
Miss Carrite returned to America, appearing in New York with the Castle Square Opera Company in revivals of The Queen's Lace Handkerchief, The Fencing Master, and The Gypsy Baron (American Theatre, 1897-98). Her voice has been described as forte legere:dramatic in quality, but with coloratura power.
---
C Index | "Who Was Who" Homepage
---