THE D'OYLY CARTE OPERA COMPANY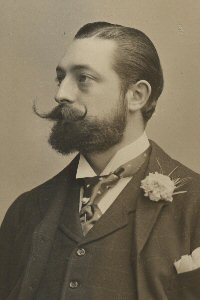 Ivan Caryll
Ivan Caryll (cond., 1899)
[Born Liege, Belgium 1861, died New York City 29 Nov 1921]
Ivan Caryll's only association with the D'Oyly Carte Opera Company was a composer and first night conductor of The Lucky Star, a three-act comic opera with dialogue by Charles H. Brookfield and lyrics by Adrian Ross and Aubrey Hopwood, a work that was revised and assembled by Helen Lenoir (Mrs. D'Oyly Carte) and produced at the Savoy on January 7, 1899.The Lucky Star ran for 143 performances, closing on May 31, 1899.It was also performed by the D'Oyly Carte Opera Company on tour.
The Lucky Star was early in Caryll's career as a composer and one first night observer wrote:
"Music disappointing: not in the least "catching": feeble waltz tunes generally : noisy brass and shrieking sopranos represent solidity and force!Want of distinction and character throughout."
This "review" was not for public consumption, but survives in the diary of Sir Arthur Sullivan.
Caryll was born Felix Tilken in Belgium.He studied at the Liege Conservatoire, then moved to Paris and, in 1882, to London.For some time he was musical director at the Gaiety and Lyric Theatres.In the latter assignment he conducted Gilbert & Cellier's The Mountebanks in 1892.He became a prolific and highly successful composer of light music or "comedy with music" as he preferred to refer to musical comedy.Some of his best known works for the theatre were Little Christopher Columbus, The Shop Girl, The Duchess of Dantzic, The Earl and the Girl, The Pink Lady, The Toreador, The Orchid, Our Miss Gibbs, and Oh! Oh! Delphine.He had just completed the music for another:Little Miss Raffles:a week before his death in 1921.
He was married for a short time to Geraldine Ulmar in the early 1890s.
---
C Index | "Who Was Who" Homepage
---