THE D'OYLY CARTE OPERA COMPANY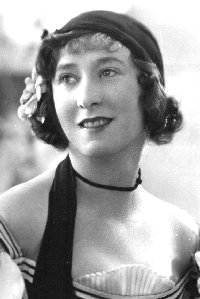 Sylvia Cecil as Gianetta in The Gondoliers
Sylvia Cecil (1918-21, 1930, 1936-37)
[Born London]
A native Londoner, Sylvia Cecil was born within ten minutes' walk of the Savoy Theatre.She studied at the Guildhall School of Music, making her acting debut as Titania in a juvenile production of Shakespeare's A Midsummer Night's Dream in December 1914.
She joined the D'Oyly Carte Repertory Opera Company in December 1918, immediately assuming the roles of the Plaintiff in Trial by Jury, the Lady Ella in Patience, Peep-Bo in The Mikado, and Fiametta in The Gondoliers.In April 1919 she began to appear in principal soprano roles and for the remainder of the season was seen frequently as Patience in Patience, Princess Ida in Princess Ida, Yum-Yum in The Mikado, and Elsie Maynard in The Yeomen of the Guard.
For the 1919-20 season, her roles were the Plaintiff (shared with Marion Brignoll), Patience, Princess Ida, Yum-Yum, Elsie Maynard, and Casilda in The Gondoliers.Yum-Yum and Casilda were shared with Helen Gilliland until the latter lady left the Company in January 1920.Miss Cecil's appearance in the title role of Princess Ida at the Princes Theatre on December 30, 1919, marked the first London revival of that "respectful operatic per-version of Tennyson's 'Princess.'"
The following season Miss Cecil gave up the Plaintiff, but added Rose Maybud in Ruddigore, when the supernatural opera was revived for the first time in Glasgow in December 1920. She left the Company in June 1921 to go into musical comedy.
Her second stint with D'Oyly Carte Opera Company was a brief one.Signing on to replace Winnie Melville in January 1930, she remained only until the end of the season (June), appearing as Josephine in H.M.S. Pinafore, Mabel in The Pirates of Penzance, Yum-Yum in The Mikado, Rose Maybud in Ruddigore, and Gianetta in The Gondoliers.
Miss Cecil rejoined the D'Oyly Carte Opera Company for the third time on May 4, 1936.She left again at the end of the month, but returned in August at the start of a 36-week American tour.This time she remained with the Company until the end of the following season (July 1937), performing as Josephine, Patience, Princess Ida, Yum-Yum, Elsie, and Gianetta.
A regular on the London and provincial stage for many years, she appeared regularly in concerts and musical comedy, including several works by Noel Coward and Ivor Novello.She also toured Variety Halls for a time with Martyn Green in the early years of World War II.Their joint act, called "Words with Music," of course, featured songs from Gilbert & Sullivan.
In 1975 Sylvia Cecil returned to the Savoy with other former members of the D'Oyly Carte to appear in the jury for the last night Centenary production of Trial by Jury.She was called before the curtain and gave a short speech of thanks on behalf of the "old favorites" for the great reception they had been given.
---
C Index | "Who Was Who" Homepage
---