THE D'OYLY CARTE OPERA COMPANY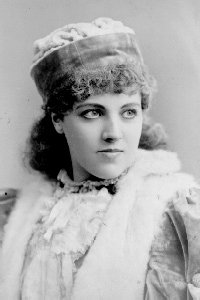 Kate Chard as Lady Psyche in Princess Ida
Kate Chard (1879, 1882, 1884)
[Born Kingston, Surrey 11 Mar 1861, died Shere, Surrey 4 Jan 1942]
After studying at the Royal Academy of Music, Kate Chard made her first appearance on the concert stage as an amateur in Dublin.This resulted in her engagement at the Promenade Concerts in that city and, soon thereafter, her first engagement with one of D'Oyly Carte's touring companies as a member of the chorus in 1879. She left the D'Oyly Carte later that year to tour with the Carl Rosa Opera Company with whom she appeared in named roles in Faust, Mignon, and Maritana.
In January 1882 she returned to the D'Oyly Carte, touring as Rose in Stephens and Solomon's Claude Duval until March.It was during this tour that she met and married Deane Brand.Shortly thereafter (1883), she and her husband sailed to Australia where they remained for a year and a half, and where she appeared as the first Boccacio in Australia.
Upon returning to England, Miss Chard was engaged the D'Oyly Carte for the third time:this time at the Savoy to create the role of Lady Psyche in Princess Ida, January 1884.It was a part originally intended for Leonora Braham, but Miss Braham was suddenly called upon to assume the title role of the Princess when Lillian Russell was dismissed during rehearsals.Miss Chard played Lady Psyche for the duration of the run:until October 1884:occasionally filling in as Princess Ida in Miss Braham's stead.
In October 1884 she left the D'Oyly Carte for the last time, and the stage for a year's rest.In the Spring of 1886 she reappeared at the Empire Theatre in Billee Taylor and Round the World in Eighty Days.She and her husband then tried their hands at management, producing and playing in a comic opera called Rhoda that failed and lost heavily.She returned to the concert stage for a time, but again found work in London at the Royalty Theatre in The New Corsican Brothers in November 1889.She then played in music halls, more comic opera (The Wedding Eve, Trafalgar Square, 1892), and pantomime (Dick Whittington, Olympic, 1892-93; Cinderella, Lyceum, 1893-94).She also appeared in Cinderella at New York's Abbey Theatre (April-June 1894).
Her last appearance in London was as Lady Nesta Danby in Playing the Game, a musical comedy at the Strand in June 1896. Managed by her husband, Playing the Game ran for only five performances in London but toured for several months in the fall.
Her sister Nell appeared on tour with D'Oyly Carte's Continental Company in 1887-88.
---
C Index | "Who Was Who" Homepage
---