THE D'OYLY CARTE OPERA COMPANY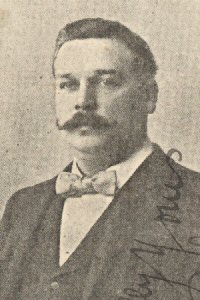 John Child
John Child (1882-83)
[Born Knaresborough, Yorkshire 1857, died Knaresborough, Yorkshire 4 Feb 1926]
Tenor John Child began his career as a concert singer around 1879, appearing with some success at St. James's Hall, before making his stage debut on a six-month tour as the tenor lead in Les Cloches de Corneville beginning in 1881.
He had a short career with the D'Oyly Carte organization:appearing as Frederic with Mr. D'Oyly Carte's No. 1 "Pirates" Company from September to December 1882, and in the dual roles of the First Lieutenant and Hans in Rip Van Winkle with another touring company from December 1882 to July 1883.
Following his D'Oyly Carte experience, Child toured with a number of light opera companies and, in 1887, brought a company of his own to London's Comedy Theatre with a revival of The Beggar Student. During the 1890s and 1900s he had several roles in grand opera at Drury Lane, Covent Garden, and the Lyric.He also appeared in comic opera (Incognita and The Magic Opal) at the Lyric (1892-93).
---
C Index | "Who Was Who" Homepage
---