THE D'OYLY CARTE OPERA COMPANY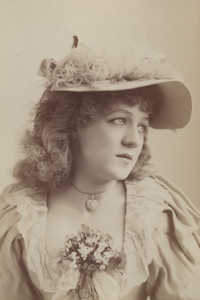 Attalie Claire
Attalie Claire (1891)
[Born Toronto, Ontario c.1870]
Attalie Claire (full name Attalie Claire Smith) was a popular concert singer and actress, who made her operatic debut in New York as Siebel in Faust in 1888. She later moved up to play Marguerite in that opera. After an engagement with the Boston Ideals (1888-89), she returned to New York, appearing in the title roles in both Martha and Carmen, and as Arline in The Bohemian Girl and Edwige in Guglielmo Tell.
In 1890 she made her first appearance in London in the title role in Captain Thèrese, followed in 1891 by Annabel in Maid Marian, both at the Prince of Wales. Miss Claire then had her only engagement with the D'Oyly Carte--appearing as Hollee Beebee in The Nautch Girl with Carte's "D" Company on tour in the English provinces in August and September 1891.
She soon left for North America where she toured next as Charlotte with Lillian Russell in La Cigale (1891-92). She appeared regularly before audiences in the U.S. and Canada for the next several years, eventually returning to London in 1897 where she was Gretchen in Franco Leoni's Rip Van Winkle. Miss Claire returned to America shortly thereafter, appearing in a season of opera in English at the Boston Theatre in the spring of 1898. She returned to New York later that year, appearing with the Castle Square Opera Company in Boccaccio and Alfred Cellier's Dorothy (American Theatre, September 1898). Her last roles in New York were in a Koster & Bial's Music Hall "burletta" The Regatta Girl (March 1900) and a burlesque of Nell Gwynne called Nell-go-in (New York Theatre, October-November 1900).
---
C Index | "Who Was Who" Homepage
---