THE D'OYLY CARTE OPERA COMPANY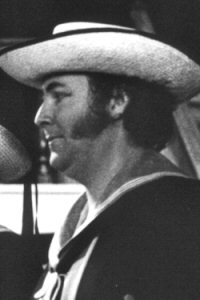 Barry Clark in H.M.S. Pinafore
Barry Clark (1971-82)
Barry Clark joined the D'Oyly Carte Opera Company chorus in July 1971, remaining with the Company until its closure on February 27, 1982.During his tenure, he appeared regularly in the small parts of First Yeoman in The Yeomen of the Guard (1974-82), Francesco in The Gondoliers (1975-80), and the Defendant in Trial by Jury (1975-76).He also filled in on occasion as Alexis in The Sorcerer, Ralph Rackstraw in H.M.S. Pinafore, the Duke of Dunstable in Patience, Earl Tolloller in Iolanthe, Cyril in Princess Ida, Richard Dauntless in Ruddigore, Leonard Meryll and Colonel Fairfax in The Yeomen of the Guard, and Marco in The Gondoliers.He may be heard on the D'Oyly Carte's 1977 recording of The Gondoliers as Francesco, and their 1979 Yeomen of the Guard as First Yeoman.
Clark went on to sing in operas and musicals with many other companies, including Scottish Opera, Opera East, Dublin Grand Opera, and New Sadler's Wells.He was an original London cast member of Phantom of the Opera, playing the role of the Auctioneer, after which he played Pirelli in Sweeney Todd at the Bristol Old Vic, and later worked in pantomime.He also appeared as the Defendant in Trial by Jury at Queen Elizabeth Hall.In 1992 Clark sang with the London Savoyards as Ralph Rackstraw in H.M.S. Pinafore.
He was the author and director of Monarchs of All They Savoy, an original play about Gilbert, Sullivan and D'Oyly Carte, appearing himself as Carte in its 1992 production at the Players Theatre, Charing Cross.More recently, he has served as principal tenor with the Carl Rosa Opera Company, appearing as Tolloller, Leonard Meryll, and Nanki-Poo, among other roles, before switching to baritone for their 2003 production of The Gondoliers, in which he played The Duke of Plaza-Toro.
---
C Index | "Who Was Who" Homepage
---