THE D'OYLY CARTE OPERA COMPANY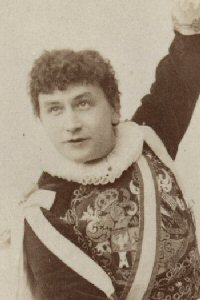 Richard Clarke as Marco in The Gondoliers
Richard Clarke (1890-97, 1898-99)
[Born Madeley, Shropshire c.1860]
Richard Clarke began his D'Oyly Carte career at the Park Theatre, New York, on January 7, 1890, as Marco in the original American production of The Gondoliers. The show was a disaster, and Carte quickly closed it, brought in a host of new principals, and launched a revised version at Palmer's Theatre on February 18. Clarke, however, was one of a handful of the original performers to keep his spot in the new production, playing Marco throughout the run.
He returned to Dublin in May 1890 with the Company (redesignated as Carte's "Company 'D'") still as Marco, and when their brief tour of the British Isles ended in Wolverhampton on July 5, transferred to Company 'C" replacing Charles Conyers as Marco.
Company "C" soon became a repertory company and Clarke was its principal tenor. He added Nanki-Poo in The Mikado in December 1890, and Colonel Fairfax in The Yeomen of the Guard in January 1891. On September 4, 1891, he participated as Nanki-Poo in the Royal Command Performance of The Mikado at Balmoral Castle. The repertoire of Company "C" expanded again in October 1891 when Iolanthe was added, Clarke as Earl Tolloller, and in January 1892 with The Nautch Girl in which he played Indru. The Nautch Girl was dropped from the repertoire in July, and, in its place, the next month, Patience was added. Clarke, of course, was the Duke of Dunstable.
In 1893, Clarke had a part in every opera as the Duke, Tolloller, Nanki-Poo, Fairfax, Marco, and, beginning in May, Frederic in The Pirates of Penzance. The trend continued. In January 1894, H.M.S. Pinafore was added--Clarke as Ralph Rackstraw. In April 1895 it was The Sorcerer with Clarke as Alexis, and in December 1895 he played Cyril when Company "C" restored Princess Ida. He continued to appear with the Company in all nine of his roles until November 1896, and then left with many of his colleagues for D'Oyly Carte's South African tour (December 1896-June 1897).
The South Africa tour included Utopia Limited and The Grand Duke, but not Princess Ida. Clarke almost certainly played his familiar roles of Alexis, Ralph, Frederic, the Duke, Tolloller, Nanki-Poo, Fairfax, and Marco, adding Captain Fitzbattleaxe in Utopia and Ernest Dummkopf in The Grand Duke as well.
The Company returned to England in July 1897, and resumed touring as Company "B," but Clarke left the D'Oyly Carte organization in August to accept a role in London--as Piquillo in La Perichole at the Garrick. La Perichole ran for 84 performances (from September 14 to December 4).
Clarke was back on tour with D'Oyly Carte Opera Company "C" from July to November 1898 replacing Robert Evett in all his old roles--Alexis, Ralph, Frederic, the Duke, Tolloller, Cyril, Nanki-Poo, Fairfax, and Marco, plus Captain Fitzbattleaxe--before transferring to Company "D" in December. There he toured in two new roles--as Reverend Henry Sandford in The Vicar of Bray (December 1898 to February 1899) and Tapioca in The Lucky Star (February to July 1899).
He left the stage in July 1899, but returned to the D'Oyly Carte Opera Company in November 1900 as Business Manager, first with Company "C," then with Company "E" (later known as the "Savoy Touring Company") from December 1900 to May 1902. After the "Savoy Touring Company" Company disbanded, Clarke appears to have continued in management elsewhere. He served as Business Manager for at least one London show, Alice in Wonderland at the Prince of Wales's, December 1906-January 1907.
---
C Index | "Who Was Who" Homepage
---