THE D'OYLY CARTE OPERA COMPANY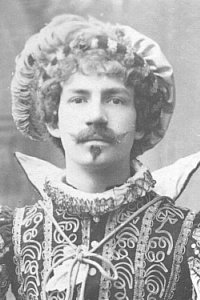 H. Cooper Cliffe
H. Cooper Cliffe (1879-81, 1882, 1883)
[Born Oxford 19 Jul 1862, died New York City 2 May 1939]
The son of a well-known actor and manger (Clifford Cooper) and an equally well-known Shakespearian actress (Agnes Kemble), Henry Cooper Cliffe, was known as Henry Cooper when he made his stage debut in Grimsby on July 21, 1879, two days after his seventeenth birthday, in the chorus of H.M.S. Pinafore with D'Oyly Carte's touring "Comedy Opera Company Ltd." On August 4, 1879, the Company became known as Mr. D'Oyly Carte's "First Pinafore Company."
The Company disbanded on December 13, 1879, but H. Cooper Cliffe (still known as Henry Cooper) was engaged as chorister and understudy with Carte's "D" Company, touring The Sorcerer and H.M.S. Pinafore from March 1 to December 11, 1880. He appeared on occasion as J. W. Wells in The Sorcerer (June 1880) and as Dick Deadeye in Pinafore (December 1880).On December 27, "D" Company switched to The Pirates of Penzance, and H. Cooper Cliffe (as he was now known) was the Sergeant of Police. He left the Company (it had been redesignated "E" Company in March) and the D'Oyly Carte organization on July 30, 1881, to make his first appearance on the London Stage:as Podge in Stephens and Solomon's Claude Duval at the Olympic on August 24, 1881, but returned to the D'Oyly Carte fold briefly in 1882 (January-March) to tour in the somewhat larger role of Boscat in Carte's touring production Claude Duval.
In July 1882 he was back in London:this time at the Globe:to appear as Tommy Merton in the original production of The Vicar of Bray, but returned to the D'Oyly Carte for the third and last time the following year, touring as Private Willis with Mr. D'Oyly Carte's No. 2 Iolanthe Company from March to October 1883.
Cliffe soon shifted from comic opera to the dramatic stage.He appeared regularly on the London Stage throughout the 1890s and until 1906.He was associated with Wilson Barrett for ten of those years, in London, the provinces, and America.Cliffe emigrated to America permanently in 1906, but continued to perform well into his 70s.His last appearance in New York was as King James II in The O'Flynn in December 1934.
He was a cousin of Alice Barnett.
---
C Index | "Who Was Who" Homepage
---