THE D'OYLY CARTE OPERA COMPANY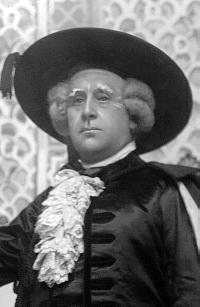 John Clulow as Don Alhambra in The Gondoliers
John Clulow (1906-07)
John Clulow had a brief career with the D'Oyly Carte Opera Company:engaged to play Wilfred Shadbolt in The Yeomen of the Guard, Don Alhambra in The Gondoliers, and Archibald Grosvenor in Patience for the First London Repertory Season, December 1906 to August 1907.
His theatrical career began nearly 20 years earlier.He appeared in Gipsy Gabriel, a comic opera by Walter Parke and William Hogarth, with music by Florian Pascal, on tour in November 1887.His first appearance on the London Stage appears to have been as Danella Tomato in The New Corsican Brothers, at the Royalty, November-December 1889.He was a regular on the London Stage until March 1892, but was not seen in London again until August 1905 when he played H. Nelson in The White Chrysanthemum, at the Criterion in a cast that included Rutland Barrington, Henry A. Lytton, Isabel Jay and a number of other former D'Oyly Carte artists. This was followed by a role in Amasis (as an "Expert Witness") at the New Theatre in August 1906, but Clulow left to join the D'Oyly Carte midway into the run.
After the First D'Oyly Carte Repertory Season ended in August 1907, Clulow remained active on the stage.He appeared in numerous musical and dramatic works in London between April 1909 and April 1915.
---
C Index | "Who Was Who" Homepage
---