THE D'OYLY CARTE OPERA COMPANY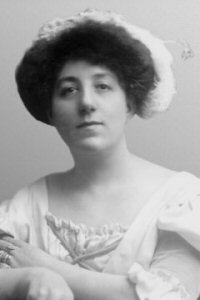 Katie Cohen
Katie Cohen (1881-83, 1885, 1887)
[Born London 1864, died 24 Jan 1946]
Katie Cohen's theatrical career began as a child actress.Her first appearance in a D'Oyly Carte program appears to have come in August 1881 with Mr. D'Oyly Carte's "E" Company as Edith in The Pirates of Penzance. (It has been suggested, however, that Catherine Cowen, who filled in briefly as Edith with "E" Company in April 1881, may be Katie Cohen by another name.)In December 1881 the Company abandoned Pirates and became Mr. D'Oyly Carte's No. 2 "Patience" Company, with Miss Cohen appearing as the Lady Angela for the next two years:until December 1883, when she left the Company.
In September 1885 she returned to the D'Oyly Carte, this time to Carte's "C" (Repertory) Company, appearing as Edith in Pirates, Angela in Patience, and (from November onward) Hebe in H.M.S. Pinafore.She left the D'Oyly Carte organization again in December 1885 when "C" Company was disbanded, but returned one more time:appearing with Mr. D'Oyly Carte's "D" Company from September to December 1887 as Angela yet again and as Pitti-Sing in The Mikado.
In 1888 she appeared as Paquita in a comic opera called La Serenata, produced at the Prince's Theatre, Manchester.
She would soon leave the comic opera stage to pursue a career in the music halls and pantomime with her husband. Katie Cohen was married to fellow D'Oyly Carte and music hall artist Albert Christian. Together they toured America with Lottie Collins in 1893. Miss Cohen's mother was D'Oyly Carte contralto Fanny Harrison, and her father was Isaac Cohen, former managing director of the Crown and Pavilion Theatres in London. Her sister Phoebe also toured for a spell as with D'Oyly Carte's "E" Company in 1894-95.
---
C Index | "Who Was Who" Homepage
---