THE D'OYLY CARTE OPERA COMPANY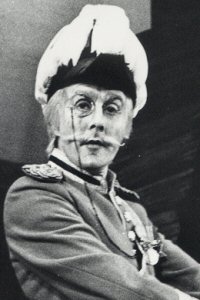 James Conroy-Ward as Major General Stanley in The Pirates of Penzance
James Conroy-Ward (1973-82)
[Born Timperley, Cheshire 12 Apr 194x]
In the late 1950s, 12-year-old James Conroy-Ward was a "super" with the D'Oyly Carte Opera Company during a tour in Manchester, appearing on stage as Tom Tucker in H.M.S. Pinafore and Ko-Ko's assistant in The Mikado. After training at the Royal Northern College of Music, he spent four and a half years at Covent Garden Opera, singing in the chorus and playing small parts.
He auditioned for the D'Oyly Carte Opera Company in 1973 and was hired to understudy John Reed in the principal comic baritone parts. During his first season, beginning in July 1973, he appeared regularly as the Foreman in Trial by Jury, General Stanley in The Pirates of Penzance, Major Murgatroyd in Patience, the First Citizen in The Yeomen of the Guard, and both Antonio and Annibale in The Gondoliers.In the 1975 D'Oyly Carte Centennial Season he played Lord Dramaleigh in Utopia Limited.
He was relieved of his duties as First Citizen in 1976, as well as the part of the Foreman when Trial by Jury was dropped from the repertoire.But he picked up Guron in Princess Ida when that opera was restored to the repertoire from February to April 1977, and again for the 1977-78 season.
Meanwhile, he filled in for John Reed on numerous occasions between 1973 and 1979 in all Reed's principal roles: J. W. Wells in The Sorcerer, Sir Joseph Porter in H.M.S. Pinafore, Reginald Bunthorne in Patience, the Lord Chancellor in Iolanthe, King Gama in Princess Ida, Ko-Ko in The Mikado, Robin Oakapple in Ruddigore, Jack Point in The Yeomen of the Guard, and the Duke of Plaza-Toro in The Gondoliers.
Conroy-Ward inherited all of these roles except Bunthorne and Gama (Patience and Ida having been dropped from the repertoire) himself in October 1979 following Reed's retirement, but the D'Oyly Carte Opera Company was by then on its last legs.The Gondoliers was dropped in August 1980, and in September of that year Conroy-Ward's understudy, Alistair Donkin took over General Stanley in Pirates on a permanent basis.When Ruddigore was restored in February 1981, the part of Robin was given not to Conroy-Ward but, in a departure from tradition, to Peter Lyon.
James Conroy-Ward may be heard on the 1976 D'Oyly Carte recordings of Utopia Limited (as Lord Dramaleigh) and The Grand Duke (as the Herald), and their 1977 Gondoliers as Antonio, as well as on the 1982 "Last Night" recording.
Following the closure of the D'Oyly Carte Opera Company in February 1982, he went into the music publishing business.
---
C Index | "Who Was Who" Homepage
---