THE D'OYLY CARTE OPERA COMPANY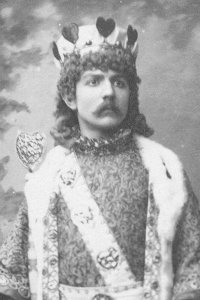 Charles Conyers
Charles Conyers (1884-85, 1889-90)
[Born 1861, died 19 Nov 1896]
Tenor Charles Conyers made his first appearance with the D'Oyly Carte organization as Archibald Grosvenor in Patience with Mr. D'Oyly Carte's "C" (Repertory) Company from August to December 1884.In 1885 he bounced around from Carte's "A" Company (Cyril in Princess Ida, February-April), "C" Company (Grosvenor, April-July), "E" Company (Nanki-Poo in The Mikado, August-October), and "C" Company again (Defendant in Trial by Jury, Alexis in The Sorcerer, Frederic in The Pirates of Penzance, the Duke of Dunstable in Patience, and Ralph Rackstraw in H.M.S. Pinafore, October-December).
Conyers then left the D'Oyly Carte for three years.During his hiatus he appeared on tour in a comic opera called Glamour (as the title character Prince Glamour), August-November 1886.
He returned to the D'Oyly Carte in January 1889 as Colonel Fairfax in The Yeomen of the Guard with D'Oyly Carte Opera Company "B," then transferred in the same role to Company "C" later that month, playing Fairfax until November.When Company "C" was reformed in March 1890 to tour The Gondoliers, Conyers rejoined as Marco.He left the D'Oyly Carte for good in July 1890.
Conyers would appear in several operas and musicals on the London Stage between 1891 and 1895, including Miss Decima (1891), The Baroness (1892), Frasquita (1893), La Mascotte (1893), The Bric-a-Brac Will (1895).He died the following year at the age of 35.
---
C Index | "Who Was Who" Homepage
---