THE D'OYLY CARTE OPERA COMPANY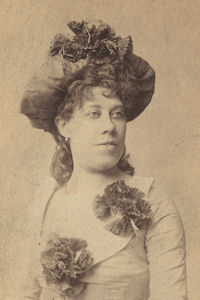 Alice Aynsley Cook
Alice Aynsley Cook (1882, 1885, 1900, 1902)
[Born Stockwell Green, London 24 May 1849, died London 7 Apr 1938]
Alice Aynsley Cook had four separate but brief engagements as principal contralto with D'Oyly Carte touring companies over a span of 20 years.She was Ruth in The Pirates of Penzance with Mr. D'Oyly Carte's No. 1 "Pirates" Company from April to June 1882; appeared as Lady Sangazure in The Sorcerer, Ruth in The Pirates of Penzance, the Lady Jane in Patience, and Little Buttercup in H.M.S. Pinafore with Carte's "C" (Repertory) Company from October to December 1885; was "Dancing Sunbeam" in The Rose of Persia with D'Oyly Carte Opera Company "D" from April to December 1900; and played the Countess of Newtown in The Emerald Isle with the same Company (also known as the "Savoy Touring Company") from September 1901 to May 1902.
Her performing career, mostly in musical theatre, extended from 1872 (when she debuted in burlesque and appeared at the Gaiety) until 1905 (when she toured as Mrs. Marjorie Buttery in Ada Reeve's Moll, the Rogue).She also appeared in Alfred Cellier's Nell Gwynne and The Tower of London in 1875, performed in several Gilbert & Sullivan operas with Edwin Cleary's Company in South America in 1891-92, and toured for George Edwardes' Company as Dame Courtlandt in Gilbert & Carr's "His Excellency" in 1894-95.
Two of her older brothers, Thomas Aynsley Cook and Furneaux Cook, also appeared with the D'Oyly Carte organization.
---
C Index | "Who Was Who" Homepage
---