THE D'OYLY CARTE OPERA COMPANY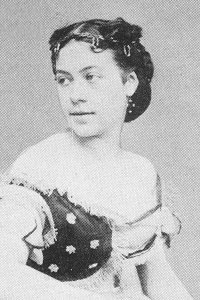 Rosa Cooke
Rosa Cooke (1885-86)
Rosa Cooke took her first role on the New York Stage as a young woman, playing Gertrude in the musical comediatta The Loan of a Lover at Lucy Rushton's Theatre in March 1866.Over the next four years she appeared frequently for New York audiences in a variety of genres:opera, burlesque, Shakespeare, and concerts.Some years later (in November 1879) she returned to New York at Haverly's Lyceum Theatre in an entertainment called The Tourists in a Pullman Palace Car.She subsequently appeared in Gilbert & Sullivan with Edward E. Rice's Comic Opera Company as the Lady Jane in Patience (November-December 1881), and with the Boston Comic Opera Company as Ruth in The Pirates of Penzance, Jane again, and Little Buttercup in H.M.S. Pinafore (March 1882).
In November 1885 Miss Cooke was engaged by D'Oyly Carte Opera Company to play Katisha in The Mikado with Carte's Second American Mikado Company in Boston.She played Katisha until late January 1886 when she was succeeded in the role by Flora E. Berry.It was her only experience with the D'Oyly Carte organization.
Rosa Cooke performed with various companies in opera, legitimate theatre, and in concert until at least 1898, when she played Miss Puffaway in the musical comedy The Telephone Girl at New York's Casino Theatre.
---
C Index | "Who Was Who" Homepage
---