THE D'OYLY CARTE OPERA COMPANY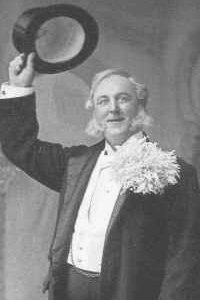 Colin Coop as John Brown in The Shop Girl
Colin Coop (1887)
[Died 7 Aug 1937]
Colin Coop was a chorister with Mr. D'Oyly Carte's "B" Company, appearing on tour as an ancestor in Ruddigore from April to December 1887.It was his only recorded D'Oyly Carte engagement.
He went to South America in 1891 with the Edwin Cleary Opera Company, appearing in Gilbert & Sullivan and other works for audiences in Buenos Aires, Montevideo, Valparaiso, Lima, and elsewhere.The Company was shipwrecked off the coast of Chile and reportedly trekked across the Andes to reach safety in Argentina, before returning to England in March 1892.
Coop later starred in a number of London musical shows including Morocco Bound (Shaftesbury, 1893), Don Juan (Gaiety, 1893-94), The Shop Girl (Gaiety, 1894-95), My Girl (Gaiety, 1896), The Circus Girl (Gaiety, 1896-98), San Toy (Daly's, 1899-1901), The Medal and the Maid (Lyric, 1903), The Little Cherub (Prince of Wales's, 1906), and A Girl on the Stage (Prince of Wales's, 1906).
After that, his work appears to have been performed in the provinces.His last traced appearance was as Suliman in the comic opera Peri, The Slave of Love, produced in Wolverhampton in February 1921 and performed on tour to January 1922.
---
C Index | "Who Was Who" Homepage
---