THE D'OYLY CARTE OPERA COMPANY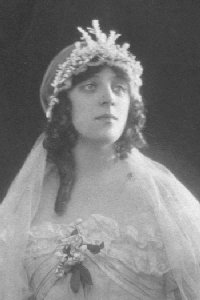 Elsie Coram as the Plaintiff in Trial by Jury
Elsie Coram (1914-18, 1919-22)
[Born 21 Dec 1895, died 2 Jan 1969]
Soprano Elsie Coram joined the D'Oyly Carte Principal Repertory Opera Company in July 1914 as a chorister and small part player. During her first season she appeared frequently as the Lady Ella in Patience (a part she shared first with Hilda Cross, later with Phyllis Smith) and occasionally substituted as the Plaintiff in Trial by Jury and Fiametta in The Gondoliers.In the 1915-16 season her regular duties included the named parts of Kate in The Yeomen of the Guard and Fiametta.She lost Kate (to Phyllis Ferguson) the next season, but added the Plaintiff in Trial and Sacharissa in Princess Ida to her repertoire and also filled in on occasion as Mabel in The Pirates of Penzance.
In July 1917, her named parts expanded to include the Plaintiff, Lady Ella (once again), Celia in Iolanthe, Lady Psyche in Princess Ida, Peep-Bo in The Mikado, Kate (again) in Yeomen, and Fiametta.She held these parts until she left the Repertory Company in December 1918.
Miss Coram was re-engaged the following summer to help launch the D'Oyly Carte "New" Opera Company as one of its two principal sopranos, taking the leading roles of Phyllis in Iolanthe and Yum-Yum in The Mikado, and the smaller parts of Kate in The Yeomen of the Guard and Casilda in The Gondoliers.After two seasons with the "New" Company, she returned to the main (Repertory) Company in July 1921, appearing regularly as the Plaintiff, Celia, Lady Psyche, Peep-Bo, Zorah in Ruddigore, and Fiametta.In August and September 1921 she briefly took over as Patience in Patience, Princess Ida in Princess Ida, Elsie Maynard in The Yeomen of the Guard, and Casilda in The Gondoliers, replacing Joyce Gaymon. These roles were then assumed by Helen Gilliland when she rejoined for the London Season at the Princes Theatre in October.Miss Coram left the D'Oyly Carte organization for good in April 1922.
Miss Coram later toured the Far East with a "Gilbert & Sullivan Opera Company" presented by the Australian J. C. Williamson Ltd., appearing in Yokohama, Japan, in April 1923 as Gianetta in The Gondoliers.
Elsie Coram was married for a time to D'Oyly Carte musical director Harry Norris.
---
C Index | "Who Was Who" Homepage
---