THE D'OYLY CARTE OPERA COMPANY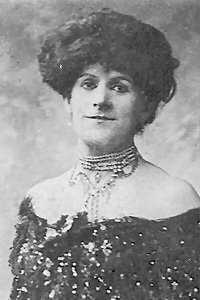 Blanche Courtney
Blanche Courtney (1893, 1894-1901)
[Born c.1870]
Blanche Courtney (real name Blanche Kate Linwood) appeared as the Lady Ella in Patience with D'Oyly Carte Opera Company "B" from July to December 1893.She then left the D'Oyly Carte for a year for maternity reasons, returning in late 1894. She was married to D'Oyly Carte tenor Percy Edmunds.
She later performed with D'Oyly Carte Opera Company "E" in a number of smaller roles over the six-and-a-half years beginning in December 1894.Her roles included Polly in the companion piece Captain Billy (1895), Maraquita in The Chieftain (February-August 1895), Lady Ella again (May 1895-February 1896 and December 1900-June 1901), Fiametta in The Gondoliers (August 1895-February 1896 and July 1896-July 1897), Bertha in the first provincial production of The Grand Duke (March 1896-April 1897), Iza in The Grand Duchess of Gerolstein (June 1898-April 1899), Kate in The Yeomen of the Guard (August 1898 and January 1899-February 1900), Oasis in The Lucky Star (February-November 1899), Gertrude in Haddon Hall (October-November 1899), First Bridesmaid in Trial by Jury (November 1899-February 1900), and "Blush-of-the-Morning" in The Rose of Persia (February 1900-June 1901).
Upon leaving the D'Oyly Carte she went on a tour of South Africa.
---
C Index | "Who Was Who" Homepage
---