THE D'OYLY CARTE OPERA COMPANY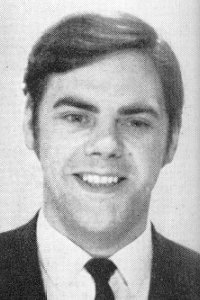 Jeffrey Cresswell
Jeffrey Cresswell (1968-75, 1977)
[Born Bilston, Staffordshire 15 Jun 1942, died Stamford, Lincolnshire 24 Jul 2004]
Tenor Jeffrey Cresswell joined the D'Oyly Carte Opera Company chorus in September 1968.During his first four seasons with the Company he filled in on occasion as Francesco and Luiz in The Gondoliers, and First Yeoman in The Yeomen of the Guard.
In September 1972 he took over as the regular Francesco and First Yeoman, and in July 1973 he swapped First Yeoman for Leonard Meryll in Yeomen and added the Defendant in Trial by Jury.During the 1975 D'Oyly Carte Centenary season, he appeared as Viscount Mentone in the concert production of The Grand Duke. Between September 1972 and August 1975, when he left the Company, Cresswell would also occasionally substitute for principal tenors as Mr. Box in Cox and Box, Ralph Rackstraw in H.M.S. Pinafore, Frederic in The Pirates of Penzance, Nanki-Poo in The Mikado, Colonel Fairfax in The Yeomen of the Guard, and Luiz in The Gondoliers. In February 1977 he returned to the D'Oyly Carte Opera Company to make an emergency guest appearance as Prince Hilarion in Princess Ida.
Jeffrey Cresswell subsequently appeared with English National and Covent Garden Operas and many other musical and opera companies in the United Kingdom. He has sung opera in Kenya, Zimbabwe, and South Africa, and was in the original West End production of Phantom of the Opera.He also appeared often in oratorio, and created the title role in William Hayward's Solomon.Between 1995 and his sudden death in 2004 he enjoyed a successful concert stint as one of "The Three British Tenors."
Further details on his career and repertoire may be found on his website, www.jeffreycresswell.co.uk.The site also includes a section of memories from his D'Oyly Carte days.
---
C Index | "Who Was Who" Homepage
---