THE D'OYLY CARTE OPERA COMPANY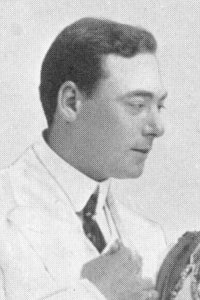 Frank Crimp as Tom Hatherton in A Chinese Honeymoon
Frank Crimp (1892-1902)
[Born London c.1866]
Frank Herbert Crimp appeared as Herbert Crimp with the D'Oyly Carte Opera Company at the Savoy in January 1893, substituting for Richard Green as Sir George Vernon in Haddon Hall.He was presumably Green's understudy and a chorus member until the end of the run in May, when he took the small part of the Second Student in Barrie, Doyle, and Ford's Jane Annie at the Savoy and, from July to September, on tour.
In 1894 he was back in the chorus--with Carte's American Utopia Limited Company in New York and Boston and on provincial tour with D'Oyly Carte Opera Company "B." In 1895, still with Company "B," and by then known as Frank Crimp, he took several larger roles:Colonel Calverley in Patience (January-February), Ferdinand de Roxas in The Chieftain (February-August), the Mikado in The Mikado (April-July), and Pooh-Bah in The Mikado (July-December).In July 1895, he also added Sergeant Bouncer in Cox and Box, Captain Corcoran in H.M.S. Pinafore, and Antonio in The Gondoliers, keeping those three parts until he left Company "B" in February 1896.
Frank Crimp next served with D'Oyly Carte Opera Company "E" on tour from April 1896 to May 1897, appearing as the Herald in the First Provincial production of The Grand Duke, then from July on also as Pish-Tush in The Mikado and Antonio in The Gondoliers.He played the Herald until The Grand Duke was dropped in April 1897, and Pish-Tush and Antonio until leaving "E" Company in May.
In July 1897, he joined Carte's newly re-formed Company "B," many of whose members had returned from a tour of South Africa.With Company "B" he took his familiar roles of Pish-Tush and Antonio, and added the tiny part of First Yeoman in The Yeomen of the Guard, and (in August and September) Count Cosmo in His Majesty.He remained with Company "B" until it was disbanded June 4, 1898.
By December 1898, Crimp was back with Company "E" for his final stretch with the Carte organization.It lasted until May 1902.His roles during this period began with Bob Beckett in H.M.S. Pinafore and Sergeant Meryll in The Yeomen of the Guard(December 1898-February 1900), Cancan in The Lucky Star (February-November 1899), Barnabus Bellows-to-mend in Haddon Hall (October-November 1899), and the Foreman of the Jury in Trial by Jury (November 1899-February 1900). From February 1900 to December 15, 1900, "E" Company took up The Rose of Persia exclusively, with Crimp as the Royal Executioner.From December 31, 1900, to June 23, 1901, they played The Rose of Persia and Patience, with Crimp returning to Colonel Calverley in the latter opera.From July 1, 1901, to May 24, 1902, "E" Company (by then also known as the "Savoy Touring Company") presented The Emerald Isle exclusively, and Crimp portrayed Sergeant Pincher.
Frank Crimp left the Carte organization after The Emerald Isle.He returned to London, filling in briefly for Farren Soutar as Tom Hatherton in A Chinese Honeymoon at the Strand in 1903.
Crimp was married to fellow D'Oyly Carte artist Maggie Hogan.
---
C Index | "Who Was Who" Homepage
---