THE D'OYLY CARTE OPERA COMPANY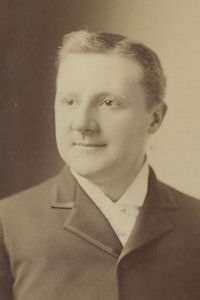 Herbert A. Cripps
Herbert A. Cripps (1881)
[Born England c.1847]
Herbert A. Cripps had a long career in the theatrical profession as performer, stage manager, orchestra leader, and producer, extending from 1873 when he appeared in an extravaganza entitled Mephisto and the Four Sensations at New York's Olympic Theatre until at least 1901 when he produced Victor Herbert's The Fortune-Teller at London's Shaftesbury Theatre.Cripps appears to have been lured out of retirement in 1915-16, when he was stage director for a season of Gilbert & Sullivan, starring De Wolf Hopper, at New York's 48th Street Theatre.
Most of his career was spent in New York and Boston.He was a chorister with the Boston Ideal Opera Company in H.M.S. Pinafore in 1879.When R. D'Oyly Carte and Edward E. Rice's First American Billee Taylor Company appeared in Boston in May and June 1881, Cripps joined the Company.He soon took over the part of Sir Mincing Lane when William H. Seymour was called away by the death of his mother.It was his only engagement with the D'Oyly Carte organization.
Cripps later appeared as the Lord Chancellor in Iolanthe with the Chicago Ideal Opera Company for the grand opening of A. L. Ghio's New Opera House in September 1883.
---
C Index | "Who Was Who" Homepage
---