THE D'OYLY CARTE OPERA COMPANY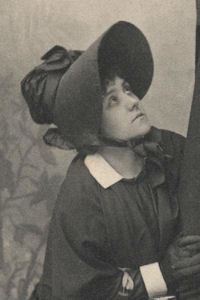 Haidee Crofton as Mad Margaret in Ruddigore
Haidee Crofton (1879, 1884-85, 1886-91)
[Born Islington, London 1854]
Haidee Crofton was born Haidee Sophia Moore, the oldest child in a theatrical family. Her father, Charles Moore, managed the Old Vic in the early 1870s, and one of her younger sisters, the famous actress Mary Moore, married James Albery and, later, Sir Charles Wyndham.
Miss Croften toured as Hebe in H.M.S. Pinafore and Maria in the companion piece After All with the Comedy Opera Company Ltd. (April-May 1879) and Carte's "A" (later First "Pinafore") Company (July-September 1879), before appearing with Carte's "Second London" Company as Hebe in September-October of that year.She then had a brief engagement as Hebe at the Opera Comique in November while Jessie Bond was heading for America, but left the Carte organization shortly thereafter.
Little is known of her career during the next few years, though she did play the title role in Frederic Clay's The Merry Duchess on tour in 1883.Miss Crofton returned to the D'Oyly Carte in March 1884 as Iolanthe with Mr. D'Oyly Carte's No. 1 "Iolanthe" ("F") Company until the Company disbanded in December.From April to July 1885 she toured with Mr. D'Oyly Carte's "C" (Repertory) Company as Hebe, Edith in The Pirates of Penzance, the Lady Saphir in Patience, and (beginning in May) Iolanthe.She married D'Oyly Carte baritone W. T. Hemsley in March 1885, and soon left the Company for about a year.
She rejoined the D'Oyly Carte in August 1886 as Pitti-Sing in The Mikado with Mr. D'Oyly Carte's "D" Company.Over the next five years she appeared with various Carte touring companies--"D" Company (August 1886-April 1887 as Pitti-Sing, and August-December 1890 as Pitti-Sing and Phoebe in The Yeomen of the Guard), "B" Company (April 1887-June 1888 as Pitti-Sing and Mad Margaret in Ruddigore, and June-July 1891 as Phoebe and Tessa in The Gondoliers), "E" Company (November-December 1888 as Pitti-Sing and Phoebe, and December 1889-March 1890 as Pitti-Sing, Phoebe, and Tessa), and "C" Company (December 1888-December 1889 as Phoebe, March-July 1890 as Tessa, and July-October 1891 as Pitti-Sing, Phoebe, and Tessa).
Haidee Crofton returned to the London Stage in 1892 as Patty in W. S. Gilbert and George Grossmith's Haste to the Wedding (Criterion, July-August 1892).She remained at the Criterion for Poor Mignonette (August-December 1892), and appeared there the following year in revival of La Fille de Madame Angot.
---
C Index | "Who Was Who" Homepage
---