THE D'OYLY CARTE OPERA COMPANY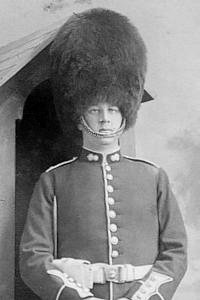 Reginald Crompton as Private Willis in Iolanthe
Reginald Crompton (1899-1900, 1901-03)
[Born Exeter 1870, died 10 Sep 1945]
Born and educated in Exeter, where he practiced for a time as a solicitor, and winner of the Holland Scholarship at the Royal Academy of Music, Reginald Crompton made his stage debut with the D'Oyly Carte Opera Company at the Savoy as The Royal Executioner in The Rose of Persia in November 1900. At six feet six inches tall, he made quite an impression. After The Rose of Persia closed in June 1900, he left the D'Oyly Carte, appearing for a time in the children's farce Shock-headed Peter at the Garrick(December 1901-February 1902).
Crompton soon returned to the D'Oyly Carte, however, to take a succession of named parts at the Savoy:Sergeant Pincher in The Emerald Isle (April 1901), So Hi in The Willow Pattern (November 1901), Private Willis in the first London revival of Iolanthe (December 1901), Big Ben in Merrie England (April 1902), and Mr. Reddish in A Princess of Kensington (January 1903).Crompton toured with the Company in Merrie England (July-November 1902) and A Princess of Kensington (May-September 1903), after which the London Company disbanded.
Along with many of his Savoy colleagues, Crompton next appeared at the Adelphi in The Earl and the Girl (December 1903).He subsequently performed at the Lyric in The Talk of the Town (1905), the Aldwych in Blue Bell (1905-06), the Apollo in Tom Jones (1907), the Garrick in Where Children Rule (1909), the Whitney in The Spring Maid (1911), the Gaiety in The Girl on the Film (1913), the Adelphi in Veronique (1915), and at Drury Lane in Puss in Boots (1915-16) and Puss in New Boots (1916-17).
---
C Index | "Who Was Who" Homepage
---