THE D'OYLY CARTE OPERA COMPANY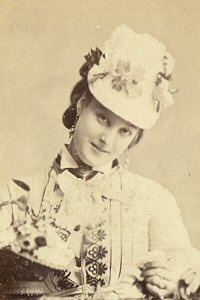 Rose Cullen
Rose Cullen (1877)
[Died December 1888]
After some experience on the provincial stage, Rose Cullen made her London debut at the Lyceum in January 1870 as the page in the opera-bouffe Chilperic. She went on to create the part of Jenny Jones in Robert Reece's burlesque The Vampire (Strand, 1872).
Miss Cullen appeared as Amanda in Frank Desprez and Richard D'Oyly Carte's one act musical pastoral Happy Hampstead, when it was produced at the Royalty Theatre, London, under the management of Carte and Kate Santley, in January and February 1877, with Orpheus in the Underworld and Lischen and Fritzen. It was her only engagement under D'Oyly Carte auspices.
She later created several more parts in London, including Jenny in Tantalus (Folly, 1878), Dolly Deveraux in Crutch and Toothpick (Royalty, 1879), and Honoria Trinkett in Themis (Royalty, 1880).
---
C Index | "Who Was Who" Homepage
---