THE D'OYLY CARTE OPERA COMPANY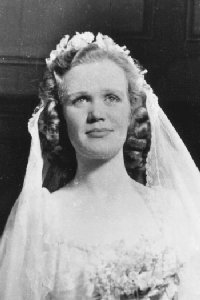 Gwyneth Cullimore as the Plaintiff in Trial by Jury
Gwyneth Cullimore (1945-48)
[Born Garndiffaith, Wales 28 Jan 1925, died Simi Valley, California 26 Oct 2017]
Gwyneth M. Cullimore studied voice in her native Wales before taking a job with the Ministry of Supply during World War II. While engaged in the war effort, she entertained troops and wounded service members in her spare time, also singing in concerts for charities. After successfully auditioning with the D'Oyly Carte Opera Company in 1945, she obtained her release from the Civil Service.
She joined the D'Oyly Carte in September 1945 as chorister and understudy to several principal soprano roles, appearing for four weeks in November-December 1945 as Yum-Yum in The Mikado and Casilda in The Gondoliers. She also filled in on occasion her first season as Fiametta in The Gondoliers.
In September 1946, she took over three minor named parts: the Plaintiff in Trial by Jury, Celia in Iolanthe, and Fiametta. During the 1946-47 season she also appeared briefly as Casilda (October 1946) and as Elsie Maynard in The Yeomen of the Guard (December 1946).
For the next season (September 1947-July 1948), Miss Cullimore retained the Plaintiff and Celia, added Saphir in Patience, and swapped Fiametta in The Gondoliers for the more demanding Gianetta. She left the D'Oyly Carte in July 1948 at the end of the season.
Miss Cullimore later appeared as principal boy in pantomimes, as leading lady in Sky High (a George & Alfred Black revue), and for a year as leading lady with the short-lived National Light Opera Company. She also spent summer seasons performing in Scotland and Cornwall, and toured Germany and Austria with a group which entertained servicemen. She lived in America from 1956 until her death at age 92 in 2017.
---
C Index | "Who Was Who" Homepage
---