THE D'OYLY CARTE OPERA COMPANY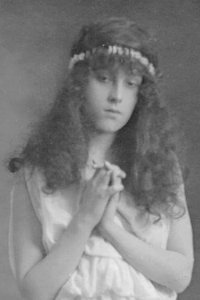 Dorothy Dane as Celia in Iolanthe
Dorothy Dane (1918-22)
[Born 1895]
Dorothy Dane joined the D'Oyly Carte Repertory Opera Company chorus in November 1918. Over the next ten months appearing more-or-less regularly as Celia in Iolanthe, and less frequently as Chloe in Princess Ida (November 1918-June 1919), and Kate in The Yeomen of the Guard and Fiametta in The Gondoliers (both July-September 1919).
In September 1919 she transferred to the D'Oyly Carte "New" Opera Company as one of two principal sopranos.Over the next two seasons she had two leading roles (Elsie Maynard in Yeomen and Gianetta in Gondoliers) and two smaller ones (Celia in Iolanthe and Peep-Bo in The Mikado). In June 1921, following Elsie Coram's departure, Miss Dane became the "New" Company principal soprano:retaining Elsie and Gianetta, switching to Phyllis in Iolanthe and taking Mabel in The Pirates of Penzance (which replaced The Mikado in the repertoire for the 1921-22 season).
In July 1922, The Mikado was revived, replacing Iolanthe.Miss Dane retained Elsie, Gianetta, and Mabel, but only made the occasional appearance in The Mikado:filling in for May Thorne as Yum-Yum. She left the "New" Company and the D'Oyly Carte organization in October 1922.
---
D Index | "D'Oyly Carte Who Was Who" Home Page
---