THE D'OYLY CARTE OPERA COMPANY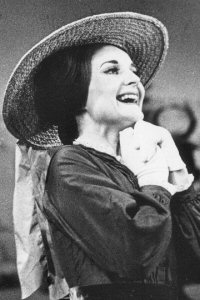 Lorraine Daniels as Constance Partlett in The Sorcerer
Lorraine Daniels (1976-82)
[Born South Hornchurch, Essex 17 Apr 1954]
Lorraine Daniels was known by her full name, Lorraine Dulcie-Daniels, when she joined the D'Oyly Carte Opera Company chorus in January 1976. She had previously studied at Trinity College, London, and in 1974 won the Elisabeth Schumann Lieder Competition. During her first full season with the Company (August 1976-July 1977) she began to make occasional appearances in small parts (Edith in The Pirates of Penzance, Leila in Iolanthe, and Vittoria in The Gondoliers).
When the next season began in August 1977, Miss Daniels took over the parts of Edith, Leila, and Saphir in Patience from Patricia Leonard who moved up to principal contralto, as well as Vittoria from Caroline Baker who left the Company. During the 1977-78 season she also filled in for principal mezzo-soprano Jane Metcalfe on occasion as Melissa in Princess Ida and Pitti-Sing in The Mikado.
The 1978-79 season was one of transition.She started as she had the previous season, with the small roles of Edith, Saphir, Leila, and Vittoria, while taking occasional turns at mezzo leads (this time Phoebe Meryll in The Yeomen of the Guard and Tessa in The Gondoliers).When it was learned that Miss Metcalfe would be leaving the Company before the Australia-New Zealand tour in April 1979, Miss Daniels assumed the mezzo roles for the operas on that tour. In January 1979 she took over as Pitti-Sing in The Mikado, and in February she switched to the title role in Iolanthe.
On the Company's return to England to begin the next season in October 1979, Miss Daniels continued to appear as Edith, Iolanthe, and Pitti-Sing, while adding Phoebe in Yeomen, Tessa in Gondoliers, and Constance in The Sorcerer to her regular duties.She eventually yielded Edith to Jill Pert (in 1980), and Gondoliers was dropped from the repertoire beginning in September 1980, but Ruddigore was added in its place, with Miss Daniels as Mad Margaret. She continued to appear as Constance, Iolanthe, Pitt-Sing, Margaret, and Phoebe until the D'Oyly Carte Opera Company closed for good in February 1982.
Since the D'Oyly Carte's closure, Miss Daniels has made many concert and operatic appearances in Great Britain and North America. Her London credits include concerts at the Barbican and Royal Festival Hall, as well as seasons at Sadler's Wells, the London Palladium, the Savoy, and the Adelphi. She's toured North America frequently with Kenneth Sandford, Geoffrey Shovelton, John Ayldon, and others with a concert program of G&S favorites called "The Best of Gilbert & Sullivan," and may be heard singing selections from the G&S repertoire on a cassette recording of that title privately produced in 1995. She also appeared briefly as Pitti-Sing in the 1981 film Chariots of Fire.
---
D Index | "D'Oyly Carte Who Was Who" Home Page
---