THE D'OYLY CARTE OPERA COMPANY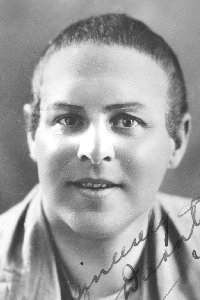 Leo Darnton as Nanki-Poo in The Mikado
Leo Darnton (1921-25)
[Born London 21 Mar 1890, died Sydney, New South Wales 31 Aug 1944]
Leopold Darnton joined the D'Oyly Carte Repertory Opera Company in February 1921 and immediately assumed the tenor roles of the Duke of Dunstable in Patience, Cyril in Princess Ida, and Leonard Meryll in The Yeomen of the Guard. He also shared Earl Tolloller in Iolanthe and Nanki-Poo in The Mikado with Derek Oldham during his initial season.
In the following (1921-22) season, he added Mr. Box in Cox and Box, the Defendant in Trial by Jury to his exclusive assignments, and shared a third role with Oldham:Ralph Rackstraw in H.M.S. Pinafore.
In July 1922, Oldham left the Company and Darnton took over his parts as Ralph in Pinafore and Richard Dauntless in Ruddigore.Darnton continued with as the sole Box, Defendant, Cyril, and Leonard, and now split the Duke with Dewey Gibson and Nanki-Poo with James Hay.
In July 1923, Charles Goulding replaced Hay in the D'Oyly Carte lineup. Darnton's roles for most of the season were Box (shared with Goulding), the Defendant, Ralph, the Duke, Cyril, Nanki-Poo, Richard (shared with Goulding), and Leonard.In October 1923, Sidney Pointer joined the cast and Darnton split Ralph and the Duke with him for the rest of the season. Darnton sang the part of Cyril in the D'Oyly Carte's first (acoustical) recording of Princess Ida in 1924. It was his only recorded role.
When the 1923-24 season ended in July, so did Darnton's stay with the Repertory Company. He was demoted to the D'Oyly Carte "New" Opera Company where he played Ralph, Nanki-Poo, Richard, and (for the first time) Colonel Fairfax in The Yeomen of the Guard on tour for one season (July 1924-June 1925).He then left the D'Oyly Carte organization for good.
He shortly relocated to Australia, appearing in Melbourne productions of Trial by Jury, Princess Ida, and The Gondoliers in 1926. In 1931 he appeared in a series of G&S operas produced at the Theatre Royal, Melbourne:Cox and Box, Trial by Jury, H.M.S. Pinafore, The Pirates of Penzance, Patience, Iolanthe, The Mikado, The Yeomen of the Guard, and The Gondoliers.
---
D Index | "D'Oyly Carte Who Was Who" Home Page
---