THE D'OYLY CARTE OPERA COMPANY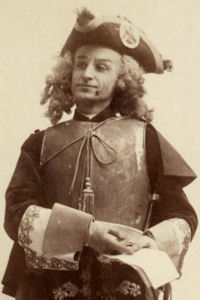 Frank David as the Duke of Plaza-Toro in The Gondoliers
Frank David (1890)
[Born St. Louis, Missouri c.1858, died Boston, Massachusetts 16 Jan 1901]
Frank David began his professional career as a musician in the orchestra of the St. Louis Grand Opera House.He played the xylophone for New York audiences in 1878, eventually transferring to the dramatic stage where he made his debut in 1886 as in Millöcker's opera The Maid of Belleville at New York's Star Theatre. In ensuing years he was seen in New York as Ramses XXVII in The Pyramid (Star, 1887) and as Birbanto in The Corsair (Bijou, 1889).
In February 1890, David was one of several artists called upon to revive D'Oyly Carte's disappointing New York production of The Gondoliers. A weak cast at the Park Theatre had been poorly received by the New York press and theatre-going public. The opera was restaged at Palmer's Theatre in February with David as the replacement Duke of Plaza-Toro. The Gondoliers ran at Palmer's with some success until April but David would not last nearly that long. He was himself be replaced by Henry Lytton in less than a month. Instead David was sent to Boston where he appeared, not as the Duke, but as Giuseppe in an authorized production managed by John Stetson.
David later appeared in New York as Tonawanda R. Sudden in Our Grab Bag (New Park, 1892) and as Tartarin in The Algerian (Garden, 1893). Thereafter, his time was spent in touring companies, writing lyrics, and composing music. He wrote both lyrics and music for a farcical comedy called A Female Drummer, produced at New York's Star and Manhattan Theatres in 1898 and 1899. In 1900 he was associated with the music publishing firm of Shapiro, Bernstein, and Von Tiltzer, and at the time of his death in 1901 was stage manager for a production of My Lady.
---
D Index | "D'Oyly Carte Who Was Who" Home Page
---