THE D'OYLY CARTE OPERA COMPANY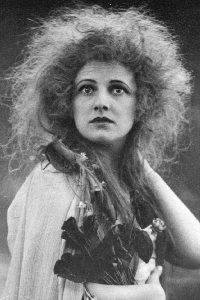 Aileen Davies as Mad Margaret in Ruddigore
Aileen Davies (1923-28)
[Born Foway, Cornwall 30 Jun 1902, died Edinburgh 5 May 1981]
Albena Aileen Davies joined the D'Oyly Carte Repertory Opera Company July 1923 and immediately assumed the relatively small parts of First Bridesmaid in Trial by Jury, Peep-Bo in The Mikado, and Giulia in The Gondoliers. She also understudied the principal soubrette, Eileen Sharp, filling in on occasion as Edith in The Pirates of Penzance, the Lady Angela in Patience and Mad Margaret in Ruddigore during her initial season.
During the 1924-1925 season Miss Davies' duties expanded. In addition to Bridesmaid, Peep-Bo, and Giulia, she was now playing Kate in The Pirates of Penzance, Saphir in Patience, and Leila in Iolanthe.Perhaps in anticipation of Miss Sharp's departure, Miss Davies also substituted for her that year as Melissa in Princess Ida, Mad Margaret in Ruddigore, Phoebe Meryll in The Yeomen of the Guard, and Tessa in The Gondoliers.
When the 1925-26 season commenced in July 1925, Miss Sharp had left the Company. For the next several months, the Company tried out three performers (Miss Davies, Gertrude Wolfle, and Beatrice Elburn) in a variety of parts.Ultimately, in October, Miss Davies took over Melissa, Pitti-Sing, Margaret, Phoebe, and Tessa, plus Hebe in H.M.S. Pinafore, Edith in The Pirates of Penzance, Angela in Patience, and Iolanthe in Iolanthe. (During the turbulent period from July to October she also appeared on occasion in the lesser parts of First Bridesmaid in Trial by Jury, Kate in Pirates, and Ruth in Ruddigore.)She played all the principal mezzo-soprano roles until she herself left the Company in June 1928.
Aileen Davies may be heard as Pitti-Sing and Tessa on D'Oyly Carte's first two electrical recordings:the 1926 Mikado and the 1927 Gondoliers. For further details on her life and career, see Tony Joseph's booklet "Aileen Davies, 1920s Soubrette," published by the author's own Bunthorne Books, Bristol, in 2003.
---
D Index | "D'Oyly Carte Who Was Who" Home Page
---