THE D'OYLY CARTE OPERA COMPANY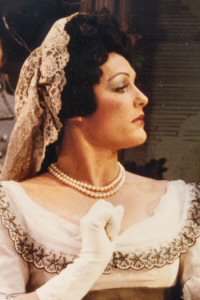 Evette Davis as Casilda in The Gondoliers
Evette Davis (1979-80)
[born Newcastle-Upon-Tyne]
Evette Davis began her career in concerts and oratorio, receiving her training at the Newcastle School of Music and, later, the London Opera Centre. Upon leaving the Opera Centre, she appeared in Kismet on Dutch Television, and sang Eliza Doolittle in My Fair Lady for a season in South Africa. He first professional Gilbert & Sullivan work was as three-month North American tour with "Gilbert & Sullivan for All."
She then signed on as a principal soprano with the D'Oyly Carte Opera Company, serving for one season, from October 1979 to August 1980, and singing the leading roles of Aline in The Sorcerer, Josephine in H.M.S. Pinafore, Mabel in The Pirates of Penzance (until July 1980), and Casilda in The Gondoliers.
Miss Davis has continued to perform in musical, concerts, and oratorio, as well as on television with The Two Ronnies and other shows. She later went into cruise work on the Cunard line with the Condordia Theatre Company and appeared in London for a time as Carlotta in The Phantom of the Opera.
---
D Index | "D'Oyly Carte Who Was Who" Home Page
---