THE D'OYLY CARTE OPERA COMPANY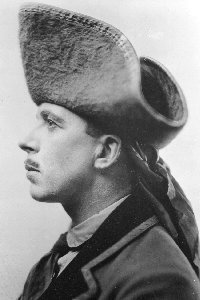 John Dean as Frederic in The Pirates of Penzance
John Dean (1926-46)
[Born Lilleshall, Shropshire 2 Sep 1897, died Thornton-le-Dale, Yorkshire 20 Mar 1990]
Tenor John Dean began his twenty-year career with the D'Oyly Carte Opera Company as a member of the chorus with the main (Repertory) company in June 1926. His first named part was First Yeoman in The Yeomen of the Guard in the 1927-28 season, a year in which he also made occasional appearances as Leonard Meryll in the same opera.
In 1928-29 he took over the roles of the Defendant in Trial by Jury and Francesco in The Gondoliers, and the following season, added Leonard Meryll and took Luiz (in place of Francesco) in The Gondoliers, though he was now sharing the Defendant with David Grundy.
The 1930-31 season provided greater opportunity.David Grundy left the Company in mid-season, and John Dean thus had for himself Mr. Box in Cox and Box, the Defendant in Trial, Earl Tolloller in Iolanthe, Cyril in Princess Ida, Leonard in Yeomen, and Luiz in Gondoliers.He also had a share (along with Charles Goulding) of Nanki-Poo in The Mikado.
Over the next fifteen years, Dean continued to play principal tenor parts. Other tenors (Grundy, Oldham, Goulding, Wilson, Dudley, Osborn, Garry, Palmer, Hancock, Williams) would come and go, but Dean served steadily right up through the war years: as Mr. Box (1930-40), the Defendant (1931-32), Alexis in The Sorcerer (1938-39), Ralph Rackstraw in H.M.S. Pinafore (1935-36, 1938-39), Frederic in The Pirates of Penzance (on occasion 1931-32, then regularly 1932-46), the Duke of Dunstable in Patience (on occasion 1931-34, then regularly 1934-42), Tolloller (1930-36, 1937-43), Cyril (1930-39), Nanki-Poo (1930-31, 1934-35, 1937-38, 1939-46, with occasional appearances in intervening years), Richard Dauntless in Ruddigore (on occasion 1932-34 and 1935-36, regularly from September 1934 to February 1935 and 1936-41), Leonard (1930-36), Colonel Fairfax in The Yeomen of the Guard (on occasion 1930-36, regularly 1936-46), Luiz (1930-39), and Marco in The Gondoliers (on occasion 1931-34, regularly 1939-46). He left the Company in August 1946, and was replaced by the returning Leonard Osborn and Thomas Round.
It is surprising that with so many operas recorded by the D'Oyly Carte Opera Company in the early 1930s, John Dean does not appear on any of them. After leaving the D'Oyly Carte, he traveled to Australia with several other former members of the Company. He appeared in The Gondoliers in Melbourne in 1949 with the Tait & Williamson organization.
---
D Index | "D'Oyly Carte Who Was Who" Home Page
---